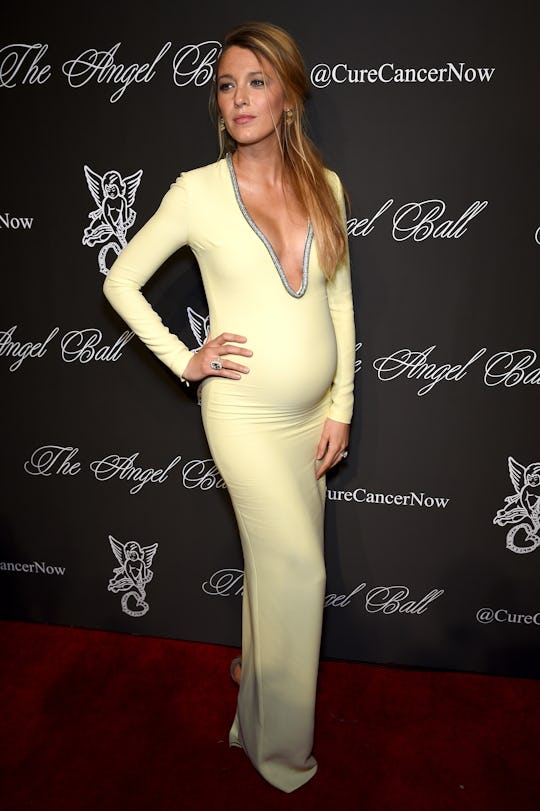 Dimitrios Kambouris/Getty Images Entertainment/Getty Images
When Is Blake Lively Due? It Might Be Sooner Than Everyone Thought
Us Weekly reported Thursday that actress Blake Lively was pregnant with her second child with husband Ryan Reynolds, after photos of Lively in a wetsuit, sporting an adorable baby bump began circulating the internet. The couple has been open in the past about how they want a big family. So, when the Gossip Girl actress was spotted on the set of her upcoming film The Shallows, showing off a what seemed to be a baby bump it led some to wonder: When is Blake Lively due to deliver baby number two?
Lively's baby bump has yet to be confirmed. E! News reported that her rep declined to comment on any pregnancy speculation from a photo snapped of the 28-year-old actress on set for her new film. Lively made sure to keep her midsection covered up while wearing a fitted wetsuit that reveals what looks to be a bun in the oven.
While the Hollywood couple has always been very private, Lively opened up in an interview with Marie Claire magazine before the birth of her first daughter about she would love a big family with her hunky hubby, admitting she wants 30 kids.
"If I could spit out a litter of kid, I would," the Age of Adaline star said in the 2014 interview with Marie Claire.
The couple was quite hush-hush about their first child, baby girl James born on Dec. 16, only revealing her birth date a year later on her first birthday. She announced her first pregnancy in October 2014 showing off her baby bump through her lifestyle website, Preserve. The site has since been shut down because it struggled to find an original identity in the health and wellness world, eventually solely relying Lively's celebrity image. We'll have to keep an eye on Instagram, or perhaps Lively will use the opportunity with baby No. 2 to relaunch the site. The actress did promise in an interview with Vogue back in September "to come back with a plan that will rock people."
No photos have been shared of baby James yet, but Lively shared this Instagram post with us on the "perks of breastfeeding," the blond mama joked about having rice in her hair.
First-time dad Reynolds has also been vocal about his fondness for fatherhood in an interview with the Today show in July 2015. "I'm a first-time dad, and that is not the first mistake I've made, and I can guarantee it won't be the last."
The couple certainly fills the role of mom and dad nicely. With guarantees and pronounced family plans, we may not have to wait too much longer for the news for the possibly growing family.