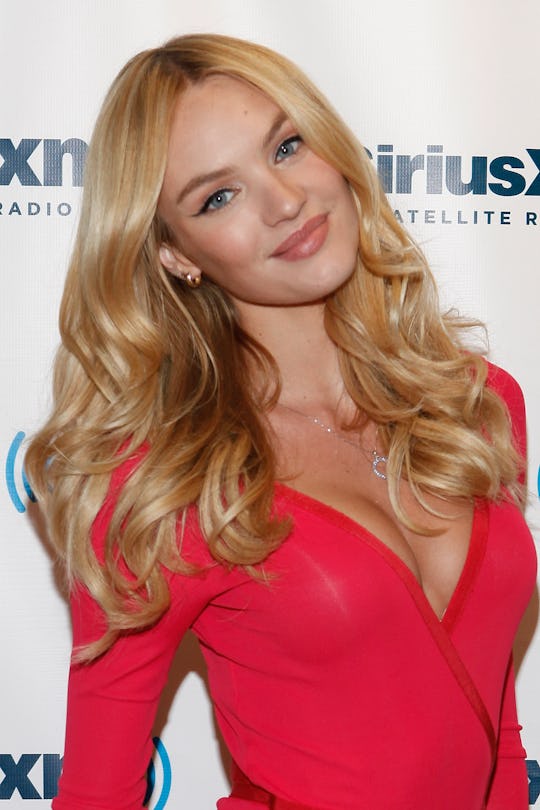 Cindy Ord/Getty Images Entertainment/Getty Images
When Is Candice Swanepoel Due? The Victoria's Secret Model Is Expecting Her First
Victoria's Secret model Candice Swanepoel adorably told the world the gender of her soon-to-be bundle of joy in an adorable Instagram post on Tuesday. The topless black and white photo shows her budding pregnant belly with the caption "My not so little boy." No so little indeed! So, when is Candice Swanepoel due? The South African beauty is expecting her first little angel.
The model's due date might not be too far away. E! News reported she was in her second trimester in March, meaning her first child might make his arrival some time in October.
The blonde beauty announced her pregnancy with her Brazilian fiancé, Hermann Nicoli, also in March in another aww-worthy Instagram post. Swanepoel shared a black and white photo of herself lying down in a sports bra and underwear with both her and Nicoli's hands resting on her then 12-week baby bump. The soon-to-be parents captioned the photo "Agora e #barrigapositiva ! #babyangel," which translates to "What happens now, large belly, baby angel," according to the Daily Mail.
An autumn due date seems to match up. According to Babycenter.com, most pregnant women find out their baby's sex during a mid-pregnancy ultrasound, which usually falls between 16-20 weeks.
Swanepoel isn't the only Angel with a baby on the way — fellow Victoria's Secret model Behati Prinsloo is also expecting her first child, a daughter, with her hunky hubby Adam Levine. According to E! News, the models are not far apart from each other in pregnancy due dates. Are you also thinking joint baby showers? If that doesn't happen, we can expect that there has been a lot of pregnancy and mommy-to-be chat behind the runway as they go through this experience together.
The 27-year-old Angel and her fiancé have been together for more than a decade and got engaged last summer. She confirmed the engagement in a romantic Instagram video of the couple dancing together while she wore a sparkling ring on her engagement finger. She captioned the video, "Meu eterno namorado," which roughly translates to "My boyfriend forever" in her fiancé's native Portuguese.
The mommy-to-be has kept her fans in the loop as she expects her first. She's continuously posted gorgeous photos on Instagram of her budding belly, drawing in thousands of likes, and she couldn't seem happier.
Swanepoel has had an impressive modeling career since she became a Victoria's Secret Angel in 2010. She's been on the cover of the brand's coveted swimwear catalogue and in 2013 she was chosen to wear the $10 million "Fantasy Bra" in the star-studded Victoria's Secret Fashion Show.
The model mommy is also actively involved in the charity Mother2Mother. The charity trains and employs HIV-positive mothers to work alongside doctors and nurses. Using her good looks and fame to help raise funds for the charity in her home country, Swanepoel has also designed denims to raise awareness.
Swanepoel will hopefully keep updating the world on her pregnancy through her beautiful Instagram posts of her growing belly. Who knows, she might reach out to fans for baby name advice for her little boy.