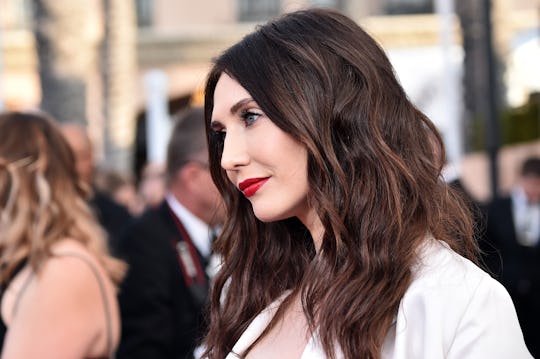 Alberto E. Rodriguez/Getty Images Entertainment/Getty Images
When Is Carice Van Houten Due? The 'Game Of Thrones' Star Is Keeping Tight-Lipped
Carice van Houten, otherwise known as the manipulative Melisandre the Red Woman on Game of Thrones, is having a baby! The actress responsible for one of the most terrifying birth scenes in TV history, along with her partner, fellow actor Guy Pearce, recently announced that the two were expecting their first child — and as far as we know, this baby won't be an evil shadow that goes around murdering people. Now that we've breathed a sigh of relief on that front, when is Carice van Houten due?
So far, the 39-year-old Dutch actress, who stars in the upcoming Jesse Owens biopic Race as Hitler's favorite filmmaker Leni Riefenstahl, and the 48-year-old Australian actor best known for Memento have been tight-lipped on details. In fact, the pair hadn't even confirmed that they were dating until the baby announcement, although they'd been fueling rumors for months. Pearce split amicably from his wife of 18 years back in early 2015. Now, although they may not want to tell the world all the details, van Houten's rep told The Hollywood Reporter that "Carice and Guy are thrilled to be expecting their first child."
Van Houten knew exactly the kind of jokes that everyone would make upon learning of her pregnancy, and she beat them all to the punch with the following Tweet:
Well-played, van Houten. It seems Pearce, too, was eager to get in on the actions, tweeting jokingly that same day, "Nothing like the prospect of a shadowbaby to change your mind about becoming a Father."
It's bound to be a big year for her, with the sixth season of Game of Thrones hitting HBO on April 24. Now that the show is mostly ahead of George R. R. Martin's source material, no one quite knows what will happen, and many are predicting that this will be Melisandre's season to shine, especially given that the sorceress just might be able to raise (certain) people from the dead.
Of course, van Houten was quick to deny any spoilery rumors, telling The Wall Street Journal in an interview last month,
I would say that this is my favorite season as far as my character goes because we left her in a not very good place. Everything sort of went wrong [last season].... [But] It's funny that there's so much pressure on my character to bring [Jon Snow] back because I don't think I've ever brought anyone back from the dead. [If anyone asks me to confirm or deny that rumor], I'll completely deny [it].
It seems whether van Houten actually ends up bringing back to life a beloved character next season or otherwise is still up in the air — for now at least, fans can be sure that she'll be busy welcoming a different sort of life into her household regardless. Congratulations to van Houten and Pearce, and best wishes for some good rest (before the night turns dark and full of baby-screaming)!