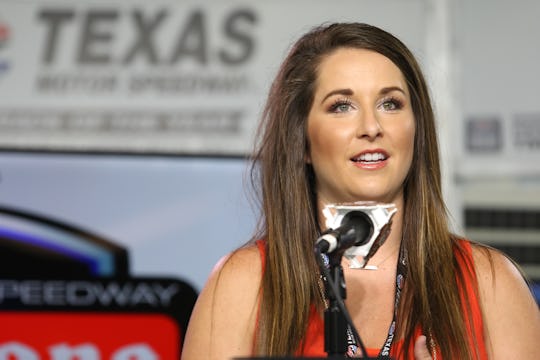 Matt Hazlett/Getty Images Sport/Getty Images
Olympic Gymnast Carly Patterson Is Going To Be A Mom!
Good news can so easily be overlooked with all the craziness going on in the world these days. But slowing down to appreciate it is important, so this latest tidbit, for instance is especially grand: A certain American gold-medalist is pregnant. So, when is Carly Patterson due? The Olympic gymnast just shared some happy news via Instagram, and her announcement is perfectly adorable.
In a photo collage shared Monday, Patterson informed her fans of the happy news, captioning the images:
Those closest to us know we have struggled to get pregnant for quite some time and were wondering if this would ever happen for us. Thankfully, God has answered our prayers and Baby Caldwell is due October 2017! Mark and I could not be more overjoyed for our little miracle and we cannot wait to start this journey of parenthood! ❤️👶🏼 "For this child I have prayed and the Lord has granted the desires of my heart" 1 Samuel 1:27
Patterson married her husband, Mark Caldwell, in 2012, eight years after Patterson took home gold in the 2004 Summer Olympics for her participation in the Women's artistic individual all-around performance. And now, it looks like Patterson, 29, can add a new accolade to her trophy shelf: a baby, due in October.
In her caption, Patterson details her struggle with getting pregnant, and thanks God for finally blessing their family with a new addition. Based on her announced due date, she's about three months along.
But that's not all. Wednesday afternoon, Patterson also shared a sweet photo of herself and Caldwell via Twitter and Instagram, featuring the two of them holding up a roll of sonogram photos with their little baby peacefully in focus.
Patterson made headlines last summer for announcing that she wouldn't be traveling to the 2016 Summer Olympics in Brazil, citing a fear of contracting the Zika virus while she and her husband were trying to conceive as the reasoning.
And while it probably wasn't too fun having to miss out on watching fellow gymnasts kick butt, the retired gymnast can definitely pat herself on the back for that decision, as she is now happy and healthy, and her little bundle of joy likely is as well.
Congratulations, Carly and Mark! You're going to be great at this whole mom and dad thing — and whether it's a boy or a girl, they're lucky to have such hardworking, inspiring parents to guide them.