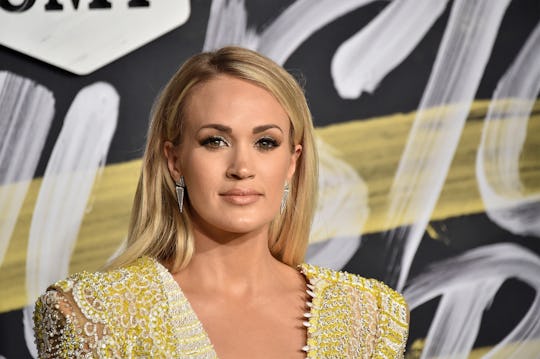 Mike Coppola/Getty Images Entertainment/Getty Images
Here's When Carrie Underwood *Might* Give Birth To Baby No. 2
Congratulations are in order for Carrie Underwood! On Wednesday, Aug. 8, the country music star announced she's expecting her second child with husband Mike Fisher. (The couple already has a 3-year-old son namedIsaiah Michael.) But when exactly is Carrie Underwood due with her bundle of joy this time around?
The singer took to Instagram on Wednesday to share the big news with her followers, as People reported — and fans couldn't be more excited for her. "You might be wondering or asking, 'Carrie, why is your tour starting in May?' Well … yay!" she said to the camera, as she then revealed balloons that spelled out "BABY" above her head. "Mike and Isaiah and I are absolutely over the moon and excited to be adding another little fish to our pond." Underwood continued: "This has just been a dream come true with album and with baby news and all that stuff. We're just so excited and just so glad you guys can share in this with us and be a part of this with us. Love you guys! We will see you on the road in 2019."
Needless to say, her fans proceeded to flip out. One Instagram follower wrote, "Congratulations @carrieunderwood so exciting and so happy for you all! 🎉💜🎉"
Another fan wrote, "So incredibly excited for you! Congrats to you, Mike, and Isaiah! Can't wait to see you out on tour! 💗"
Yet another Instagram user declared, "IM CRYING."
Although Underwood didn't specify when her due date is, a little bit of detective work can give fans a rough estimate. In November, she'll be hosting the CMA Awards alongside Brad Paisley, CMT News reported. And as Underwood revealed in her pregnancy reveal video, she'll kick off her next tour in May, presumably after delivering her second child. By my "expert" analysis, I'd say Underwood is probably due sometime near the end of 2018 and the beginning of 2019 — to give her enough time to recover and bond with her little one before returning to the stage.
For the record, Underwood's baby news certainly has interesting timing. That's because just a few days earlier — during an interview with Redbook magazine — the country singer fielded a question about whether she wanted a big family. "I'm 35, so we may have missed our chance to have a big family," Underwood told the publication. "We always talk about adoption and about doing it when our child or children are a little older. In the meantime, we're lucky to be a part of organizations that help kids, because our focus right now in our lives is helping as many kids as possible." Which is totally legit, if you consider that female fertility starts declining in your late 20s, and that a pregnancy at age 35 or later is considered "high risk."
However, plenty of Underwood's fans took her comments about "missing her chance" at age 35 pretty personally, USA Today reported. (Little did anyone know that Carrie Underwood was already pregnant!) One Twitter user wrote, "35 too old for kids? How about taking all that money you have and try #IVF some of us actually have fertility problems, what an insult @carrieunderwood."
Another person tweeted, "#accessHollywood Exactly how did Carrie Underwood miss her chance to have more kids? She's 35 and has more $$ than she'll ever need!"
Still, there were some people who came to the singer's defense. One Twitter user wrote, "She never said she definitively couldn't. She said: I'm 35, so we may have missed our chance to have a big family. Since fertility DOES decrease as women age, this is just TRUE. She MAY have missed that chance. @carrieunderwood you do what's best for your family. Best wishes."
As Us Weekly reported, it seems as if Isaiah will have to get used to sharing his mommy and daddy — because apparently, he prefers the attention is on him. "If a dog climbs up on my lap, I feel like he gets a little jealous!" she told Entertainment Tonight back in April 2017. Of course, this isn't anything that's exclusive to Underwood's little guy; welcoming a new baby into the family takes some adjustment time for everyone.
I wish Carrie Underwood the best during her pregnancy with baby number two. As the country singer will soon find out, adding another little one into the mix will require a whole new level of multi-tasking. But I have full confidence that this awesome mama will rise to the occasion and totally kick butt as a mom of two. Congrats!