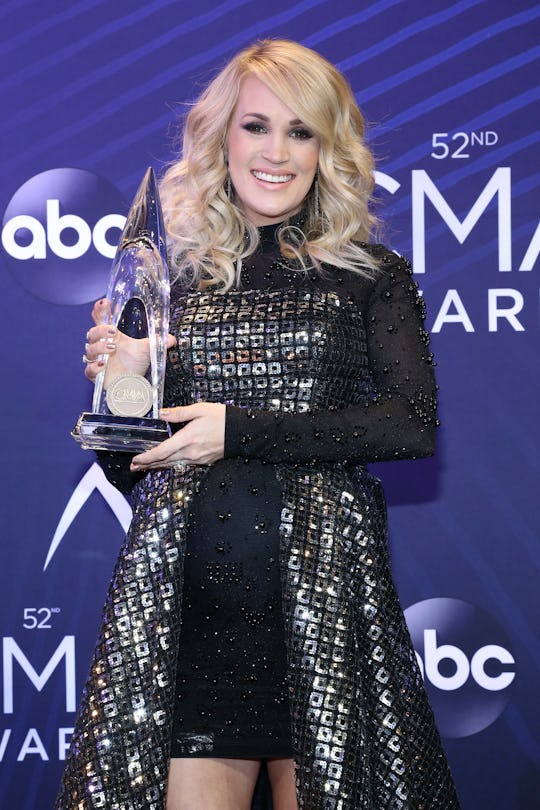 Terry Wyatt/Getty Images Entertainment/Getty Images
Carrie Underwood May Be Welcoming Baby No. 2 A Lot Sooner Than You Think
In August, country superstar Carrie Underwood revealed that she and husband, Mike Fisher, were expecting their second child together, and though she's been quite the busy working mama as of late, the couple have otherwise kept most of the details on the down-low. It was only recently, for example, that she shared that she is carrying another boy, and she still hasn't specifically mentioned when she's actually due. But it sounds like someone close to the singer may have just done that for her. Maddie & Tae's Taylor Dye recently told Us Weekly that Carrie Underwood's due date is actually in January, and, well, she would probably know: Dye is joining Underwood as the opening act when she hits the road in May.
It's not exactly clear if Underwood gave Dye her blessing to update the world on her due date, or if this was simply a case of Dye being too excited not to share, but either way, it sounds like Underwood and Fisher's second child will be coming into the world quite soon. The couple can at least rest assured though that, when their son does arrive, they'll have plenty of help — Dye told Us Weekly that she'd "already offered to babysit" the little one on their behalf.
Although she may have wanted to keep the specifics of her current pregnancy under wraps, one thing Underwood has been more than happy to discuss is how grateful she is to be pregnant in general, especially because it hadn't been a particularly easy road. In September, the singer revealed that she had actually suffered three miscarriages prior to her current pregnancy, and that she wasn't entirely sure she'd be able to give her 3-year-old son, Isaiah, a sibling after all.
In an interview with CBS News, Underwood said that she had originally planned that 2017 would be the year she'd get pregnant again and have a baby, but that not long after getting pregnant early on in the year, she had a miscarriage. A few months later, she miscarried once again. And sadly, 2018 didn't exactly start out much better: at the beginning of the year, she learned she'd had a third miscarriage.
Underwood got pregnant once again after that, but said she'd became convinced early on that she was miscarrying for a fourth time. "I was like, 'Why on Earth do I keep getting pregnant if I can't have a kid? Like, what is this? Shut the door. Like, do something. Either shut the door or let me have a kid,'" she told the outlet, adding that she prayed and told God how upset she was. "That was like a Saturday — and the Monday I went to the doctor to, like, confirm, another miscarriage. And they told me everything was great!"
Though Underwood now seems to be having a happy, healthy pregnancy, she told Us Weekly earlier this month that she feels so happy to actually be preparing to welcome another little one into her family. Underwood said, "It took us a while to get here … [I'm] just so thankful … to find out Isaiah's gonna have a baby brother. It was just great news. We're excited."
Underwood and Fisher's newest family member might be making his debut very soon, but there could be at least one person who may not be quite ready: their first-born son. Earlier this month, the "Cry Pretty" singer told People that Isaiah wasn't entirely into the idea of having to share his mom with a new baby, and that he'd gone ahead and suggested that "Daddy could have that baby and then he could be [hers]." Unfortunately for the youngster, that's probably not going to be what really happens, but Underwood did acknowledge that she and Isaiah really did have quite the special bond. She said,
He looks at me and talks to me and interacts with me like nobody else on this planet. He'll stare at me and I'm like, 'What are you looking at?' And he's like, 'I just love you.' What kid does that?
From the sounds of it, it won't be too much longer until little Isaiah will officially be adjusting to life as a big brother — thanks to Dye's revelation, it seems Underwood is in the home stretch of her pregnancy. But given how sweet their son seems, it also sounds pretty clear that Underwood and Fisher are in for a real treat having another son, and that they'll soon be the cutest little foursome around.
This first-time mom wants to have a home birth, but is she ready? Watch how a doula supports a military mom who's determined to have a home birth in Episode One of Romper's Doula Diaries, Season Two, below. Visit Bustle Digital Group's YouTube page for the next three episodes, launching every Monday starting November 26.