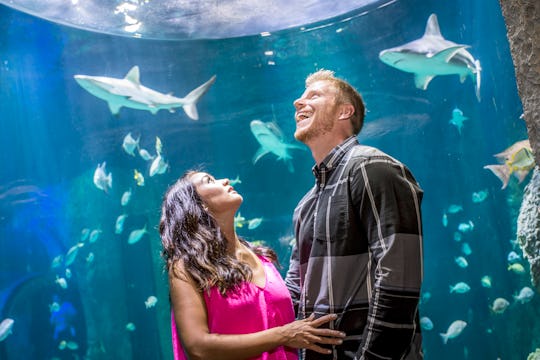 Roberto Gonzalez/Getty Images Entertainment/Getty Images
When Is Catherine Giudici Due? 'The Bachelor' Star Shared A New Bump Photo
I've got to be honest with y'all: I'm crazy about baby bellies. I'm not crazy crazy. Like, I won't run at you and rub your stomach if I see you on the street — or in the grocery store — I just love the promise and potential of pregnancy. I love the beauty of the pregnant form. And I love baby bellies because they are full of life. (Literally full of life.) So when Catherine Giudici posted a photo of her growing belly on Instagram photo yesterday afternoon, I squeed. But when is The Bachelor's Catherine Giudici due? Because, let's be honest, everyone wants to know when we will "meet" the bundle of joy.
The bad news is Guidici and hubby Sean Lowe have remained mum on the matter. The only thing the couple has officially said on the matter is that they are expecting. (Whomp, whomp.) The good news is that the couple has given internet super sleuths and, well, Instagram enough information to place their due date sometime in the summer. In fact, according to Star Pulse, Guidici is due in late June or early July. How can I be so sure? Well two months ago Guidici posted this pic to Instagram:
What was the caption?
Derrs a baby in dere 😳 #19weeks
And just days ago, Guidici posted a shot entitled "29 weeks." That means that, if I did the math right, her due date on or around July 4! (Aw, yay!)
29 weeks and my last week of being 29 😊 (and my birthday is the 29th)
As for the couple, Guidici and Sean Lowe met in 2012 on season 17 of The Bachelor, according to Wet Paint. They hit it off immediately, and, by October, it was clear their flirting was fueled by more than TV cameras and simple fun. By November they were engaged; by January 2014 — just 14 months later — they were married in a televised wedding; and by December 2015, they were pregnant.
And now?
Now the couple is "babymooning" in Palm Springs, California, and enjoying every little bit of the quiet life while they still can.
Best of luck, soon-to-mama and papa! Here's to a speedy, safe, and healthy delivery.