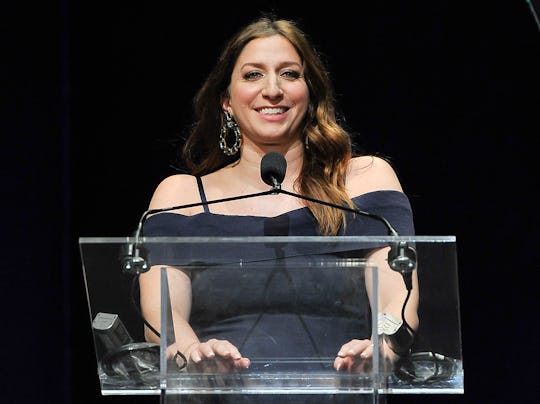 Steve Jennings/Getty Images Entertainment/Getty Images
Chelsea Peretti's Pregnancy Reveal Was A++++
In case you missed it (because, I know, this weekend was kind of crazy), Chelsea Peretti announced that she was pregnant on Sunday, via Instagram. The Brooklyn Nine-Nine star took to the social media platform to inform fans of her impending bundle of joy, and, at the same time, use the moment to hilariously emulate singer Beyoncé, who announced her own pregnancy in a gorgeous Instagram photo last Wednesday. Peretti, who is not one to take herself too seriously, captioned her own photo, which showed off her growing baby bump, "Beyoncé schmonce." And now, with the happy news out in the open, many are wondering, when is Chelsea Peretti due?
Well, we don't really know. The post, snapped in what appears to be a mirrored room, shows Peretti, baby bump and all, surrounded by strands of twinkling lights — but no other details. So for now, we'll all just have to sit tight and wait for more information. (Yes, it's going to be difficult, and yes, it'll be worth it.)
Announcing anything in the wake of a Beyoncé drop (be it album or baby) is a daunting task, especially when Queen B has already outdone herself by being pregnant with twins this time around. Peretti, however, played it all just right, making us laugh in the process — something she's no stranger to in general. Alongside starring in the Fox hit Brooklyn Nine-Nine, Peretti also has her own podcast and a stand-up show streaming on Netflix, One of the Greats.
While her humor is usually pretty straightforward, Peretti is actually pretty private when it comes to her personal life — so surprising fans and followers with new life events on social media is kind of what she does best. Back in April of 2016, Peretti uploaded a simple picture onto Instagram, seemingly innocuous at first glance, but upon reading the caption, actually turned out to be her way of announcing her marriage to fellow comedian, Jordan Peele.
The photo, featuring Peretti's pup in a festive Hawaiian shirt, and was captioned, "Eloped a bit ago... our only witness was this lil guy️."
Being a celebrity definitely comes with drawbacks, and the right to privacy can be hard to maintain. However, Peretti is doing whatever she can to protect that privacy, while still dropping a few surprises here and there — which means we don't know her exact due date, and probably won't until she gives birth and posts an adorable pic on her Instagram. (Bless.)
Whatever the case, it's a given that Peretti and Peele's first child together will be raised in a home full of love and definitely lots of laughs. We may not be "in" on all the details yet, but all of us can still send the parents-to-be plenty of congratulations.