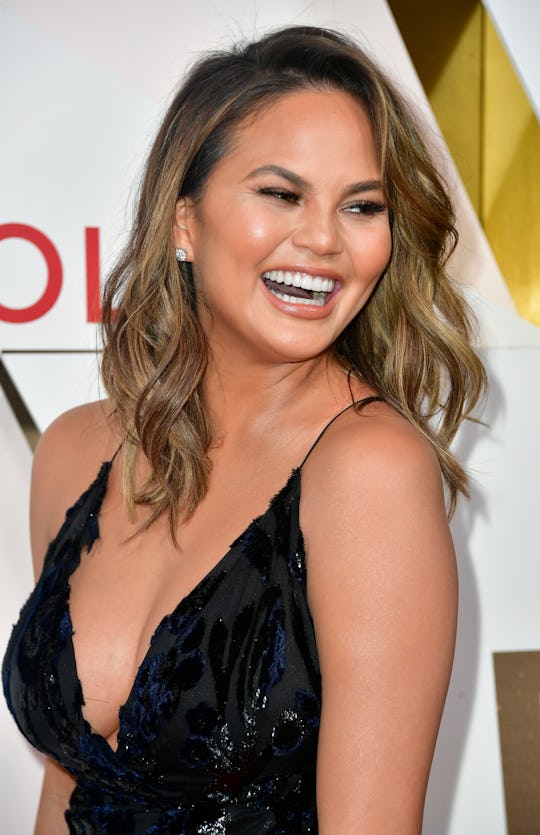 Frazer Harrison/Getty Images Entertainment/Getty Images
Everything We Know About Chrissy Teigen's Due Date For Baby No. 2
In case you somehow missed it, your favorite sassy political commentator and clap-back queen is pregnant with her second child. But, when exactly is Chrissy Teigen due and when can we expect to meet the newest little Legend? Well, the model and entrepreneur only announced the news Tuesday afternoon, so details are scarce. But, here are a few possible and telling scenarios that could indicate when baby number two will arrive.
First of all, Teigen has been sharing how ready she was for another baby for quite some time now. Even though baby Luna was born in April 2016, a source told E! News in June, a mere two months later, that Teigen and husband, John Legend, were wanting to have another baby "sooner rather than later." The source also confirmed that "they both always wanted big families," something Teigen herself has talked openly about as well. But, it's clear that the couple wanted to wait a little bit before expanding their family, as the 31-year-old only revealed that they were actively trying for another baby in October. So, if the two were ready to dive back into the process of trying just a month ago, it seems that she's pretty early in her pregnancy, and probably not due until summer 2018.
However, it's also worth noting that any time a celebrity or public figure shares their pregnancy with the world, they know that everyone will be talking about it. And because of this, many celebrities — and women in general — tend to wait until they are 12 weeks along to share their exciting news. According to Healthline, miscarriage rates drop as pregnancies progress tend to lower, "By week 12, the risk may fall to 5 percent." So, it's actually quite likely that Teigen is further along than one might originally think, or her October interview may have you believe. If these predictions are true for Teigen, then it's possible that they could welcome baby number two in the spring of next year, around May.
And considering the fact that Teigen's partner-in-crime, Legend, told People just days ago that he and Teigen were still "working on" baby number two, and "hopefully it will be soon," the two could have been knowingly toying with the media and what information gets out there. And that's totally understandable considering the fact that celebrities basically have no privacy these days. The family likely wants to keep as much to themselves as possible in a world where people think they have a right into the private lives of celebrities. But, Teigen being Teigen, she has already taken to Snapchat to share a photo of her pregnancy bump, which looks pretty darn noticeable.
And with a caption like, "Very excited to not have to hide this anymore," it certainly seems as though Teigen has known she was pregnant for quite some time now. Whatever the case, though, it seems fairly that she's hoping that they're expecting a boy this time around, as previous comments have indicated that the couple's final viable embryo was male. Teigen even took to Twitter to confirm that news, writing, "I said our next baby would be a boy because that is the embryo we have left."
In her October InStyle interview, Teigen revealed that, of her embryos, "the first little girl didn't work, and then the second is Luna," later confirming that that third embryo was male. And while Teigen has always been open about her health, fertility struggles, and cravings, the news of her second pregnancy is still new, so she likely won't reveal too many details all too soon. Nor should she have to.
For now, all that's for sure is that Teigen is pregnant, and that, according to her Instagram caption, "it's John's!" And really, what more could the world want?
Check out Romper's new video series, Romper's Doula Diaries:
Watch full episodes of Romper's Doula Diaries on Facebook Watch.