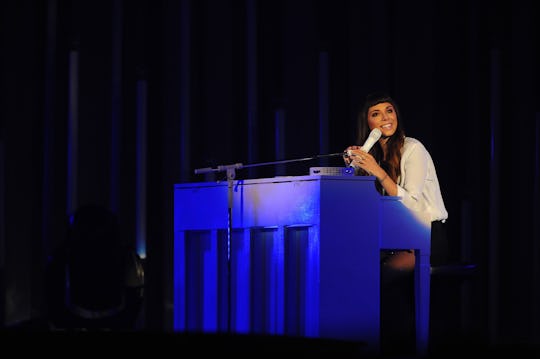 Larry French/Getty Images Entertainment/Getty Images
When Is Christina Perri Due? The Singer Is Expecting Her First Child
Christina Perri knows how to sing songs that will stick with you. As the singer of songs like "A Thousand Years" and "Jar of Hearts," her songs are emotional ballads that are inspired — and it appears that she will have a lot of new inspiration in the coming months. On Saturday, Perri announced that she is expecting her first child. And surely fans will be dying to know when is Christina Perri due — and can she make new music already?
Perri took fans by surprise on Saturday when she took to her Instagram account to make one very important announcement — that she was expecting her first child with fiancé, journalist Paul Costabile. Perri's announcement is completely understated. Perri posted the black and white photo that highlights her growing bump, lovingly held by her niece, Tesla. "Tesla's little cousin is coming soon," the photo states, with an arrow that makes the bump a little more obvious (if you didn't see it at first glance). The photo's caption is just as simple — "guess what?," she wrote.
It didn't take long for fans to deduce that Perri was expecting, taking to the comments to congratulate Perri and Costabile on their soon-to-be new addition to their family. But it is unclear just how far along Perri is.
Perri's Instagram account doesn't point to any signs of how far along she might be. Perri has a lot of interests and posts photos of everything but herself, so you can't spot the bump in any of her recent photos. It is also unclear whether or not Perri was pregnant when she got engaged to Costiable, which she also announced in an Instagram post back in June.
But it is clear that Perri will be a great mother. Perri already has so much mother-like love for her niece, Tesla, which is clear from her Instagram and website. Perri has referred to Tesla as the "greatest love she has ever felt" and by including her in her own pregnancy announcement, its clear that the love is strong. If Perri has this much love for Tesla, one can only imagine how her life will change when Perri gives birth to her own child.
As for new music from Perri, it appears that nothing is currently in the works. But that doesn't mean that Perri's new announcement won't inspire any new amazing tunes. Congratulations to the expecting couple!