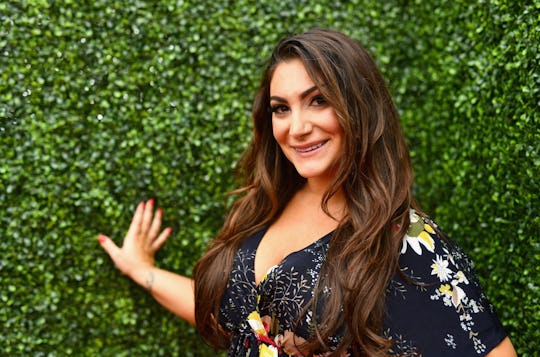 Emma McIntyre/Getty Images Entertainment/Getty Images
Here's When Deena's Baby Meatball Is Due
As a huge fan of MTV's Jersey Shore, I was super excited to see the gang reunite on Jersey Shore Family Vacation. Nicole Polizzi, Jenni Farley, and Ronnie Magro have all welcomed children into their lives, but it was Deena Nicole Cortese's pregnancy announcement that came as a major surprise. So exactly when is Deena's baby due? Because Jersey Shore fans can't wait to see her become a mom.
It looks like Deena is going to have the happiest of holidays, because according the Instagram post in which she revealed her pregnancy, her baby boy is due in December of 2018. In the post, Deena posted a series of photos with her husband, Christopher Buckner, and the two couldn't look more excited. She captioned the post with:
Chris and I Decided to wait until we were ready to spill the beans! Now that we are safely into our second trimester.. us and our little monkey are ready to tell the world Our little family is growing ! We have a sweet little boy on the way! We Are truly blessed and our hearts are filled with so much joy and happiness December can't come soon enough! Daddy and Mommy can't wait to meet you Christopher John you are going to be the most spoiled little boy ever!!!!
Well, that is just the sweetest.
Deena and Chris seem extremely happy about having a baby, and on the same day she posted her pregnancy announcement, she also posted a video of their reaction to the gender reveal, gushing that the moment they found out they were having a son "Chris' reaction was everything!"
But Deena and Chris aren't the only ones who are excited. Throughout her Instagram page, Deena has posted pictures of the rest of her Jersey Shore crew, and they all look super excited about her pregnancy. She posted an adorable boomerang of Jenni and Snooki doting on her baby bump, and also shared photos with Vinny Guadagnino and Mike Sorrentino.
On one post of her baby bump, Mike commented, "Uncle Sitch here". And on her pregnancy post Pauly D commented, "Meatballllllls On meatballssssssss," as a throwback to the nickname he gave Deena and Snooki years ago. But Snooki and Jenni are possibly the most excited out of the crew, and both reposted Deena's boomerang on their own accounts.
Deena has been great about keeping her fans up to date with her pregnancy journey. On Instagram, she has posted plenty of pictures of her baby bump, including a recent collage of her in the same blue dress at 14, 16, and 20 weeks pregnant. "I can't believe we're already half way there," she captioned the picture. She wrote that while the first trimester was rough, the experience is amazing and she wouldn't change it for the world.
Jersey Shore Family Vacation is all set to return for its second season on Thursday, August 23 on MTV. In the trailer for Season 2, you can see Deena telling the rest of the crew she is pregnant, and it will be exciting to watch their reaction and excitement to the news. In the meantime, you can keep up with all of Deena's pregnancy news through her social media pages.