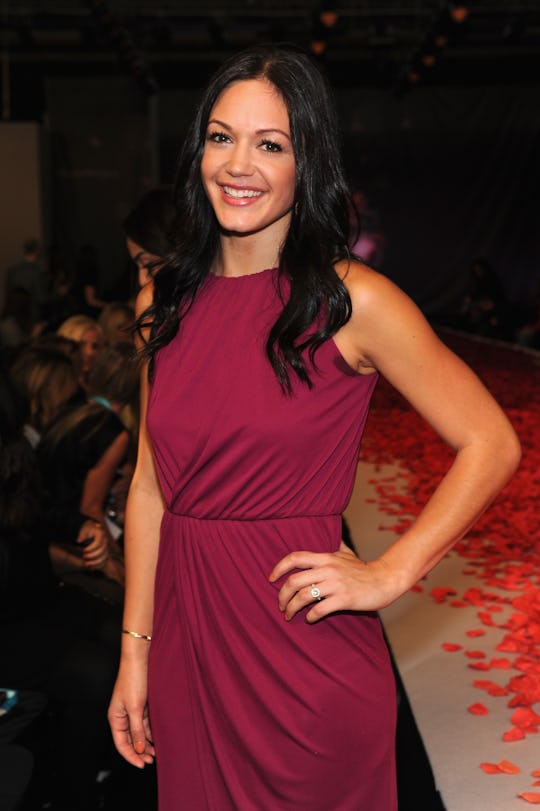 Dimitrios Kambouris/Getty Images Entertainment/Getty Images
When Is Desiree Hartsock Due? The Bachelorette Is Expecting Her First Baby
The Bachelorette's Desiree Hartsock has very exciting news to share. Hartsock and her husband, Chris Siegried, who she chose on the ninth season of The Bachelorette, are expecting their first child. The Bachelorette alums wed on Jan. 18 2015, in Palos Verdes, California, and, now, more than a year later, the married couple is looking forward to welcoming their bundle of joy. So, when is Hartsock due? Based on the information the mom-to-be provided, it's possible her due date could be some time this fall — maybe in October.
In an interview with Us Weekly, Hartsock shared the very memorable moment she discovered she was pregnant. Well, finding out you're pregnant is memorable for all moms-to-be. Hartsock's moment involved Hawaii and Valentine's Day — not too shabby of a scenario to discover you're pregnant.
"I kinda knew, like, 'You know something, I think I'm pregnant,'" Hartsock said. "We were in Hawaii when we went for our one-year anniversary. That's when we took a test and found out!"
Hartsock revealed to Us Weekly that she is 13 weeks pregnant — with pregnancy cravings and all.
"When I get sick or nauseous, I just eat," Hartsock said. "Each day is something new. Like one day I'm like, 'babe, I really need Italian.' And then the next, it's Mexican and the next it's dessert for dinner."
Hartsock, author of My Fairytale Wedding, shared a picture with Siegried on her Instagram account in February, enjoying a Valentine's Day dinner in Hawaii. Her caption reads a lot more cryptic now that fans know they probably just found out about their exciting pregnancy news.
"Not only the best dinner and #ValentinesDay of my life but the best year of my life with this wonderful man," she wrote. "I'm feeling so blessed in so many ways my heart can't contain the joy, love and excitement for the future with him."
Hartsock's "excitement for the future" likely had a lot to do with news of their growing family. And now, at 13 weeks pregnant, the mom-to-be told Us Weekly, that she's excited for her more "rounder" pregnancy belly to develop. "I can't wait until it's like – I'm rounder, I guess," she said.
I'm sure a lot of mamas would tell her that those "rounder" days sure are coming. Hartsock and Siegried, 30, live in Seattle. Hartsock's site, desireehartsock.com, shares their love story, and, provides wedding planning, design, makeup and lifestyle tips — with her husband's contribution, "Chris's Corner" included.