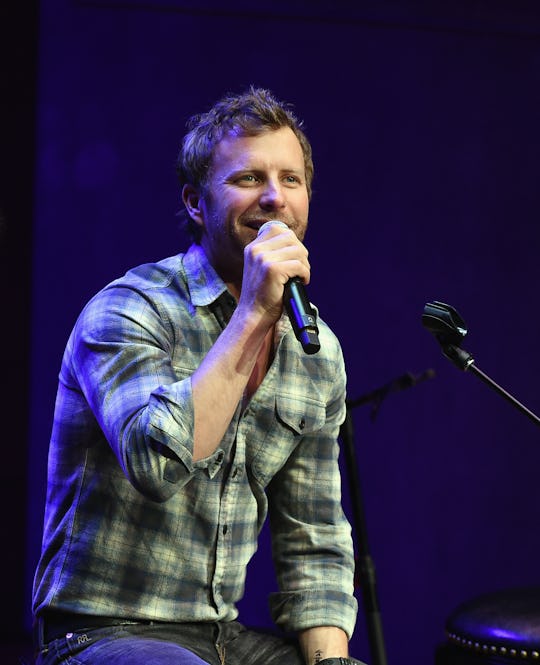 Rick Diamond/Getty Images Entertainment/Getty Images
When Is Dierks Bentley's Next Album Coming Out? 'Black' Is All About His Relationship
Breakups and new romance are perennially popular topics for songwriters, but it's not as common to hear songs written about the kind of love you're left with after a solid decade of marriage. But not only did Dierks Bentley want to sing about his 10-year love affair with his wife Cassidy — and all its ups and downs — he actually dedicated an entire album to it. Black is Bentley's upcoming eighth studio album, and it's one he says is a relationship record (even the album's name is a nod to his wife, whose maiden name is Black). When is Dierks Bentley's next album coming out? According to The Tennesseean, Black will be released May 27 — but he's already given fans a pretty good idea about what they can expect.
What started out as an open-ended attempt to follow-up on his last hit album, Riser (which spawned hits like "Drunk On A Plane" and "I Hold On"), turned into a project pretty much entirely focused on a single theme: love. Bentley told The Tennessean,
It became apparent the album was about relationships, and I was able to mold the album to that cornerstone. This record is more about looking back with Cass at the last 10 years we've been married and the ups and downs and the craziness.
In fact, Bentley said that writing "Black," which became the first song of the album, set the tone for the rest of the songs that follow. According to Country Weekly, Bentley shared in an official statement that Black is,
a relationship album that covers the ups and downs of the journey and ends with some self-realization and evolvement."
And while the subject matter might start off dark, it ends by taking a "look back on love and life."
The album's first single, "Somewhere On A Beach," might be a current hit (and more like the kind of stuff you'd expect to hear from Dierks Bentley), but Bentley insists that the single isn't actually representative of the album as a whole. He told Rolling Stone that when the songs are compiled together, it's actually a much darker album, and he recommended that fans listen to it as a collection of songs instead of 13 separate singles:
I'm trying to write a book here, and you can't just read Chapter 7 and understand the whole album...I feel like 'Somewhere on a Beach' is the part of the story where you find a new girl and the lustful crazy stage of the spectrum, but [Black] gets downright lonesome on some other tracks.
Something else fans can expect to see on Black? Collaborations. Maren Morris duets with Bentley on "I'll Be The Moon," while Elle King joins him on "Different For Girls."
In addition to some new music, Bentley fans can also look forward to a new tour as well. According to The Boot, the North American leg of Bentley's "Somewhere On A Beach" tour will kick off in Holmdel, New Jersey, on May 12, and will take him all over the country (as well as three stops in Canada). Don't want to wait? You can also see Bentley Sunday night when he co-hosts the Academy of Country Music Awards with Luke Bryan.