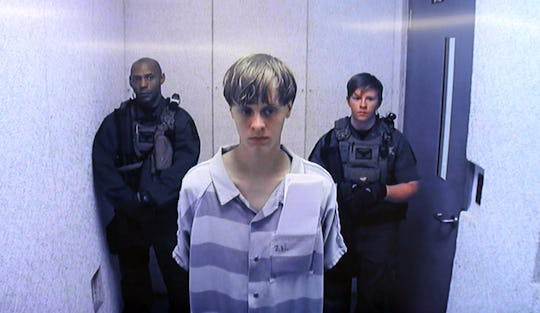 Pool/Getty Images News/Getty Images
When Is Dylann Roof's Sentencing Hearing? The Charleston Church Shooter Was Just Convicted
At the end of his federal trial on Thursday, jurors found Emanuel African Methodist Episcopal Church shooter Dylann Roof guilty on all 33 counts against him. Twenty-two-year-old Roof confessed to killing nine people in June of 2015, following a prayer meeting at the historically black Charleston church, and will soon learn his fate. When is Dylann Roof's sentencing hearing? It's scheduled to start in early January, and the same 12 jurors present on Thursday will decide if Roof will be sentenced either to the death penalty or to life in prison. Roof has stated that he intends to represent himself in the sentencing phase of his trial.
The 33 counts against Roof, a self-proclaimed white supremacist, include "12 counts of committing a hate crime against black victims, 12 counts of obstructing the exercise of religion, and nine counts of using a firearm to commit murder," reports The Los Angeles Times. The Department of Justice is hoping to secure the death penalty given the racial motivations behind Roof's killing spree, or Roof's "expressed hatred and contempt toward African-Americans, as well as other groups," along with his "lack of remorse" after the fact.
Though Roof did not testify, he pleaded not guilty. Less than 24 hours after the shooting, however, Roof admitted his guilt to the FBI--a moment captured in a video that was shown to the jury. In interviews, Roof claimed that he "had to do it," and that he believed "[it wasn't] too late to take the country back from blacks." Prior to his attack, Roof kept a journal detailing his racist beliefs and posted a racist manifesto online.
South Carolina Gov. Nikki Haley tweeted, post-verdict: "It is my hope that the survivors, the families & the people of South Carolina can find some peace in the fact that justice has been served." For the families of the Rev. C. Clementa Pinckney, Cynthia Hurd, Susie Jackson, Ethel Lance, the Rev. DePayne Middleton-Doctor, Tywanza Sanders, the Rev. Daniel L. Simmons Sr., the Rev. Sharonda Coleman-Singleton, and Myra Thompson--the victims of the Charleston church shooting--this verdict might indeed offer them some peace.
As the guilty verdicts for his charges were read aloud by the clerk, Roof reportedly stood emotionless, as has been characteristic for him throughout the trial. Roof will face an additional, state trial next year that will be focused on the murder charges associated with his Emanuel African Methodist Episcopal Church rampage-- a trial in which Roof could be sentenced to death once more.