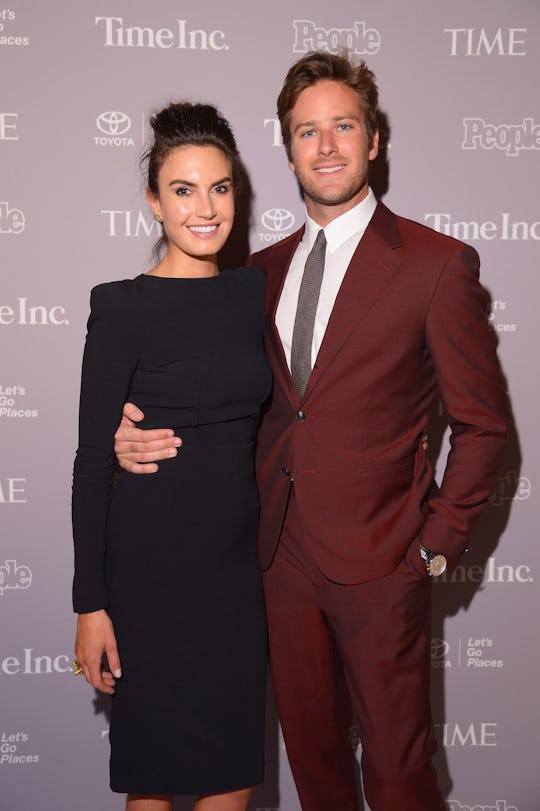 Michael Loccisano/Getty Images Entertainment/Getty Images
When Is Elizabeth Chambers Due? She's Expecting Her Second Child With Armie Hammer
Elizabeth Chambers and Armie Hammer are preparing to welcome their second child. The couple announced their pregnancy news on Instagram on Thursday. But after the exciting announcement, you're probably wondering when is Elizabeth Chambers due, and though she hasn't specified a date yet, the mom-to-be proudly showed off her growing belly.
Chambers and Hammer were at the Toronto International Film Festival when they made their pregnancy announcement post, according to E! News. They each uploaded the same photo to Instagram of the two of them looking red-carpet ready for the Free Fire premiere, Hammer posing with his hand on Chambers' tummy. "Ready to start the#torontointernationalfilmfestival festivities... All three of us!," read Hammer's Instagram photo caption. Chambers' Instagrammed pregnancy announcement included the caption, "Dressed and ready for the premiere of #Freefire. And the premiere of baby Hammer Number 2!"
The couple welcomed their first child, Harper Grace Hammer, on December 1, 2014, People reported. Chambers posted the first photo of her new daughter to Instagram about a month after Harper was born, Daily Mail reported. The proud mom also revealed on Instagram that Harper was "#severaldayslate." Chambers and Hammer diligently document their daughter's life on social media. She's not even two years old, but Harper's already spent time on set with her parents (she even got to sit in the director's chair). In April 2015, movie star Hammer told E! News that being a dad is his most treasured role yet:
It's great. It's the best thing in the world. It's sort of a whole new perspective. I don't even want to sleep anymore. I just want to stay up and spend time [with my daughter]. I don't want to miss a smile. It's the best. I love it.
Throughout her career, Chambers has done everything from serving as Chief Correspondent for the Human Rights Foundation to opening a bakery with her husband. Though she's always been driven, Chambers' interview with Levo in August 2015 revealed that motherhood changed her definition of success:
Success is now marked by not only what things are done, but how they are done. Being a parent calls the into question the approach—of everything. It becomes not only about achieving goals and marking things off your to-do-list, but about being a more decent person in the process. With everything that I do, I'm mindful of the way that I do it. I'm careful to approach things in a way that would and will one day make her proud to call me her mother.
Chambers and Hammer are definitely a power couple, and they have a lot to look forward to before greeting their new arrival. Hammer is at the Toronto Film Festival to plug three upcoming movies, according to E! News. Rated-R film Free Fire tells the story of Boston gangs in 1978, IMDB reported; Chambers and Hammer attended the premiere together after posting the pregnancy announcement. Hammer is also prepping for the October 7 opening of The Birth of a Nation and thriller Nocturnal Animals, set for a December 9 release. Other movies in the pipeline for Hammer include Jackpot, Mine, Final Portrait, Call Me by Your Name, and Hotel Mumbai.
It's safe to say Chambers and Hammer have a seriously busy year ahead. But based on how much they seem to love being Harper's mom and dad, having a new baby will be the biggest delight of all.