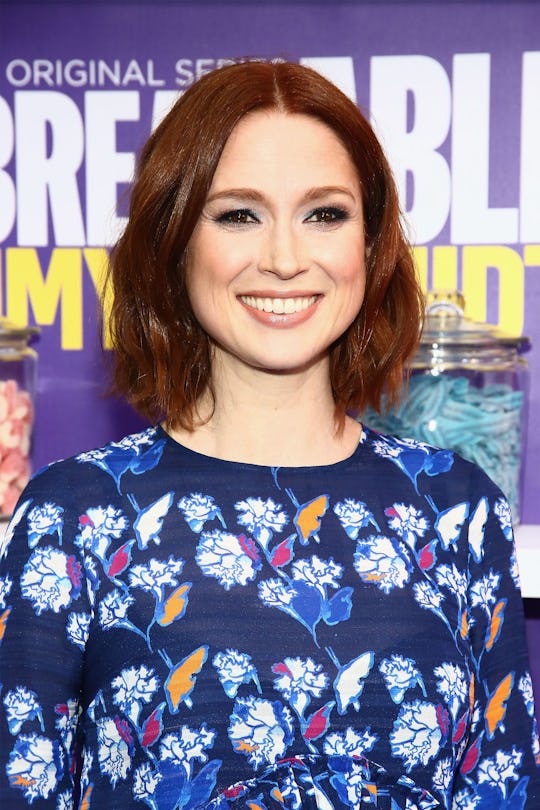 Astrid Stawiarz/Getty Images Entertainment/Getty Images
When Is Ellie Kemper Due? The 'Unbreakable Kimmy Schmidt' Star Is Expecting Her First
Although fans might have been anxiously awaiting the release of her Netflix comedy The Unbreakable Kimmy Schmidt this weekend, Ellie Kemper just broke some even bigger news. The actress reportedly announced that she was pregnant with her first child during a taping of The Tonight Show Starring Jimmy Fallon on Wednesday, according to Us Weekly. Exactly when Ellie Kemper is due is still being kept under wraps, of course, but eagle-eyed fans can at least try to suss out a few clues on their own.
According to Hollywood sources that spoke with Us Weekly, the leading lady kept her pregnancy a secret while filming this second season of Unbreakable Kimmy Schmidt, . That means that she might be further along than any viewers suspect. (Try not to decode the trimester though this weekend when binge watching, though.)
Instead, fans of Kemper should just be totally elated that she and her husband, Michael Koman, are two comedy gurus bound to have the funniest baby in Hollywood. Kemper's husband was a writer for Conan O'Brien, so they obviously share the same kind of sense of humor as much as they like their privacy. In fact, they're into that anonymous sort of thing. The most news we'll get from the couple is Kemper telling O'Brien in 2012 that "Michael's a delight."
If females are strong as hell, then Kemper is even stronger for not giving into divulging all of her good news to fans hungry for more information. It's sort of amazing that the star was able to keep her good news private for this long. She's pretty private and nervous about anyone, even her friends, knowing what's up with her and her husband. Before her wedding, she told E! News that she was just straight up nervous. "In real life, I've been a bridesmaid like a dozen times and after doing that movie I thought maybe I'll have some insight into wedding planning, but I took none of that insight." She even added, "I'm as, panicky, as uptight as any bride ever was."
It's nice to hear that even a star who seems so comfortable in her own skin like Kemper is also panicky and uptight when it comes to family. But Kemper will be able to tell her own kid that she's a certain kind of Disney princess. In TK, producer Tina Fey described the Kimmy Schmidt world as "a fairy tale New York and Kimmy a Disney princess." That doesn't mean it's perfect. "Messed up stuff happens to Disney princesses. They give up their voices to get legs," Fey joked about Kemper's character.
That sounds a lot like parenting, actually. Kemper is probably already totally prepared for her next adventure.