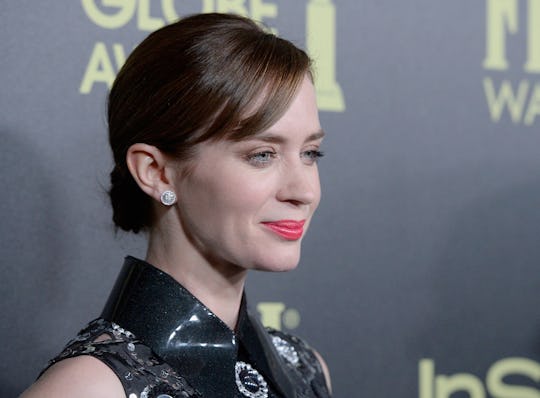 Kevork Djansezian/Getty Images
When Is Emily Blunt's Baby Due? The Actress Is Expecting Her Second Child Soon
Popular British actress Emily Blunt is pregnant again! The star, who is perhaps best known for her leading role in the 2006 blockbuster The Devil Wears Prada, is expecting her second baby with husband John Krasinski, according to US Weekly. A representative confirmed the happy news in an US Weekly exclusive on Tuesday, but didn't offer details as to when when Emily Blunt's baby is due.
Blunt and Krasinski — who played one of the most beloved characters on NBC's The Office — first tied the knot in July 2010. A little over three years later, the couple spread the word that they were expecting their first child, according to E! Online. Their daughter, Hazel, will celebrate her second birthday in February 2016, so it's probably the perfect time to make her a big sister!
But exactly when should fans expect the family's next big arrival? Well, it's a little difficult to say. US Weekly didn't mention how far along Blunt was in her pregnancy, nor did the outlet offer an estimated due date. But assuming the family chose the traditional path and waited until the start of the second trimester to share their happy news, a bit of quick pregnancy math would give their new arrival a due date sometime in late summer -- sometime in late July to mid-August 2016.
The couple has hinted in recent months that the family was ready to expand. Krasinski and Blunt told Entertainment Tonight that they were looking forward to having more kids — if only to give little Hazel a dose of (loving!) sibling rivalry. "Hopefully one day we will!" Krasinski said, when ET asked whether more children were in the family's plans. "One day, I don't know when," Blunt added. "We've got to give her some competition at some point."
Still, the couple has plenty of projects underway to keep them busy while they wait the next six or seven months. Blunt is currently filming The Girl on The Train, a film based on Pamela Hawkins' 2014 bestselling novel. Blunt plays heroine Rachel Watson, a 30-something Londoner who fantasizes about the lives of a couple she sees on her daily commute, and who one day sees something unusual, quickly becoming engulfed in the mystery. The film is slated for release in fall 2016.
According to The Daily Beast, Krasinki recently finished work on his fourth movie project, 13 Hours: The Secret Soldiers of Benghazi, Michael Bay's newly-released film about the 2012 attack on a U.S. compound in Libya. The actor also completed his second project as a director with The Hollars, currently showing at Sundance.
Congratulations to the Blunt/Krasinski clan! We can't wait to say hello to your new arrival later this year!
Images: Kevork Djansezian/Getty Images