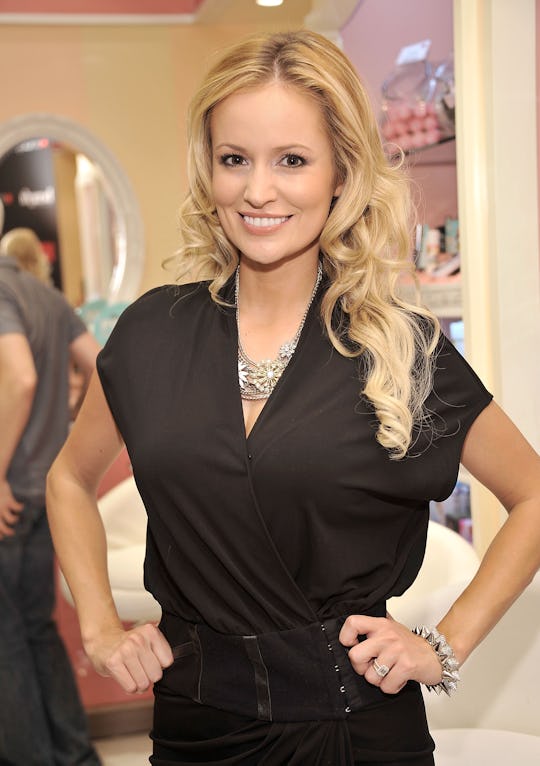 Gary Gershoff/Getty Images Entertainment/Getty Images
When Is Emily Maynard Due? Way Sooner Than You Might Think
Emily Maynard might have taken a slightly more rocky — and public — path toward love, but two series, The Bachelor and The Bachelorette, two broken off engagements, marriage, wedding, and a baby later, it seems as if the darling little blonde mama finally got her happy ending after all. She met, and married, a guy she met in church, and last July, she and husband Tyler Johnson welcomed a baby boy, Jennings Tyler to the family. On Tuesday, just a few months later, Emily Maynard Johnson announced she's got another baby on the way already. So, when is Emily Maynard due?
Well, let's do the math together, shall we? Maynard Johnson announced the surprise pregnancy to People. And, while she didn't exactly say when she's due, she did give us a pretty good clue when she said that baby Jennings will be about 15 months old when the new baby arrives. So, he's 7 months old now, he'll be 15 months in ... wait for it ... late October or early November!? That sounds about right.
Maynard is already adorably preparing herself for having two babies under two years old at the same time. Girl is smart enough to know things are about to get a little bit messy around the house, according to People:
I've already come to terms that my body may never be the same as it was before, my house may never be as clean as it is now, and laundry may get put off a little longer. But does anyone have any must-haves or tips for two under 2? Goodness knows I can use all the help I can get!
But I bet she's going to have plenty of help from the now-10-year-old big sis Ricki, who's rooting the new baby will be a girl so she can "teach her how to be a tomboy and play soccer." So cute. Those girls have been through so much together.
Maynard even took a few lines in her super happy surprise baby announce to acknowledge how lucky she is to be pregnant again so quickly considering how many people she knows who have had a hard time having babies of their own. I thought that was a really nice touch.
In addition to taking care of her babies and husband, Maynard just released a book about her life on overcoming struggles through her faith called I Said Yes: My Story of Heartbreak, Redemption, and True Love, so her fans could get the rest of the story about her high profile quest for love.
So congrats to Emily and her adorable family.