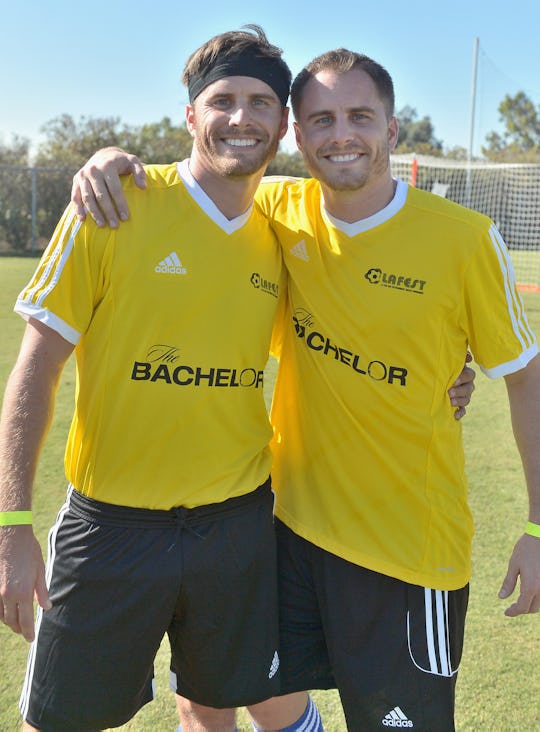 Charley Gallay/Getty Images Entertainment/Getty Images
When Is Emily Tuchscherer Stagliano Due? The 'Bachelor' Baby Count Is Growing
Another Bachelor baby is on the way! Although Michael Stagliano didn't find love with Jillian Harris during her season of The Bachelorette, he did get his happy ending — he married his now-wife Emily Tuchscherer two years ago, and now the couple is expecting their first child. When is Emily Tuchscherer due? According to Us Weekly, the couple will welcome a baby boy in November. And it sounds like pregnancy is really agreeing with her. Stagliano told the magazine,
[Emily] has been blessed with a nice easy pregnancy so far. Some fatigue in the afternoon, a new deep love for ice cream and s'mores and zero morning sickness. And she's in her second trimester.
Stagliano and Tuchscherer shared the happy news about their impending arrival's gender via Instagram, where Stagliano noted that they were also celebrating their second anniversary. And the fact that Bachelor Nation is experiencing a bit of a baby boom right now was certainly not lost on him:
So excited to share the good news. And it's two fold. 1. Today is our two year anniversary and we are in LEEERV! 2. We are having a BABY BOY! Whaow! Something is in the water out there for the Bachelor Crew. @desireesiegfried @_jprosenbaum @ashleylynnrosenbaum @seanloweksu @catherinegiudici @alifedotowsky @jillian.harris good things! @emilystag and I are beyond excited, thank you for all the love and support Bachelor Fans.
But Stagliano isn't his family's only Bachelor connection: the former Bachelor Pad contestant (and winner of Season 2!) has a twin brother, Stephen Stagliano, who is married to former Bachelorette DeAnna Pappas, and they now have two children together. Michael told Us Weekly that his brother's family was a huge reason why he wanted to have his own one day, and now that dream is coming true:
Emily and I talked about having kids early in our relationship, then when Steve and DeAnna had Addison, and now Austin, we were so excited to start our own Stag Clan!
And it definitely sounds like Stagliano is one devoted dad-to-be. In an interview with People, Tuchscherer gushed over her husband's attentiveness to her pregnancy cravings:
There have been many nights where Michael will voluntarily go out and get ice cream for us. He'll say, 'No no no, you stay here, I'll go out and get us some ice cream.' He's been very sweet.
(FYI, offering to go get your pregnant partner ice cream at night is totally the best possible thing you can ever do.)
While they are clearly over the moon now about becoming parents, it's also clear that family has always been a priority to the couple. In fact, Stagliano wasn't exaggerating when he said they'd talked about kids early on. While many couples usually wait a while before discussing their future together, Tuchscherer admitted to People that they "talked about [their] kids' names a few months into dating."
Since Stagliano's niece and nephew are a regular fixture on his Instagram account (cuuuute!), it's probably not a huge stretch to assume that, come November, Stagliano will be sharing tons of snaps of his own son on social media. And it's pretty safe to say he's going to be totally adorable.