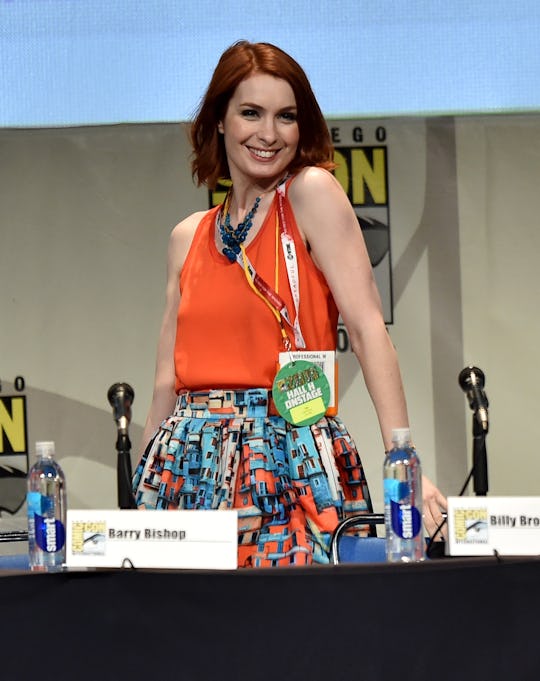 Kevin Winter/Getty Images Entertainment/Getty Images
Heads Up! Felicia Day's Baby Will Be Here Soon
Serious fans of sci-fi television are definitely, well, serious about their television shows and the actors involved in them. So when one of the show's stars has a big announcement to make in their personal life — fans are naturally excited for them. Supernatural and Buffy the Vampire Slayer alum and actress Felicia Day announced that she was pregnant on Tuesday, surprising fans everywhere, many of whom commented on the fact that the fan-favorite had hidden the news so well. So when is Felicia Day due?
It is a good thing that Day announced her pregnancy, otherwise fans would have definitely been surprised within the next few weeks. On Tuesday, the self-proclaimed "new media geek, author, gamer, and misanthrope" wrote a tweet that sparked a thousand congratulations. Donning a fittingly-humorous hat with the words "As Seen On Your Mom" on it, covering up that iconic red hair, Day also wore a huge smile on her face while showing off what she had been hiding from fans for the past few months — a pretty adorable, definitely-far-along baby bump.
"She's coming in about three weeks so I guess I should announce this and stuff," Day joked in the tweet.
In other words, Felicia Day is about to be a mom, and soon. Her daughter might be here before fans even realize it. (Fingers crossed for another cute photo surprise....)
Let's do the math. (Or, you know, counting at least.) Three weeks from Jan. 3, when Day announced her pregnancy, is Jan. 24 — so it's a safe bet that that's Day's likely due date. But babies are never born exactly on their projected due dates. According to the BBC, a baby is born on its due date only 4 percent of the time. Instead, in relatively low risk and straightforward pregnancies, 60 percent of babies are born a week earlier or later than their due dates. If this is true, fans can expect Day to have her baby within a matter of days or weeks at most.
"Just so it will pop up on some stupid FB slideshow at the end of the year, I'll post it here," Day wrote on her Facebook page, showing off the same photo of her bump from Twitter. "SO this is happening this month," Day wrote.
In another tweet, Day joked about waiting until the end of the month once the baby was born to really surprise fans. But thankfully, Day gave everyone fair warning by posting a picture of her bump in the last month for them to see and go "aww..." over.
So how did she do it? How did she hide the news so well from her adoring fans? According to Hollywood Life, Day, a working actress and producer, remained working behind the scenes for the end of 2016 — therefore easily hiding her baby bump from the public eye.
Whenever that baby comes, it's a safe bet that it'll be well-loved — not just by mom Day, but by her legions of devoted followers, all of whom are likely now waiting with bated breath.