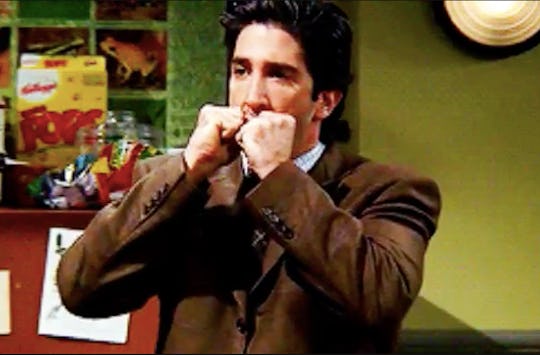 Giphy
Rumors About 'Friends' Maybe Leaving Netflix Have Taken The Internet By Storm — UPDATE
UPDATE: Followings reports on Monday that Friends would be leaving Netflix, the streaming service announced on Twitter that it's not going anywhere anytime soon. "The Holiday Armadillo has granted your wish: 'Friends' will still be there for you in the US throughout 2019," Netflix said in a tweet. Netflix's announcement follows its chief content officer Ted Sarandos telling The Hollywood Reporter the sitcom's departure was "a rumor" earlier on Monday. Romper's request for comment from Netflix was not returned at the time of publication.
EARLIER: Say it isn't so! A beloved '90s sitcom will soon be leaving Netflix for good, which means if you want to get your fix in you'd better get on it ASAP. But when exactly is Friends leaving Netflix and how much time do you have to watch the series for the billionth time?
As HuffPost reported on Monday, Friends will be leaving Netflix on Jan. 1, 2019, which is literally less than one month away. How?! Why!? As it turns out, the streaming giant sneaked an expiration on the details page of the series starring Jennifer Aniston, Courteney Cox, Lisa Kudrow, Matthew Perry, David Schwimmer, and Matt LeBlanc, E! Online reported.
The potential silver lining to this devastating news? As E! Online pointed out, Hulu has been swiping up shows, like 30 Rock, Boy Meets World,ER, King of the Hill, The Golden Girls, Seinfeld, and The Wonder Years like made lately. So perhaps Hulu has its eyes on Friends, as well? Plus, as Cosmopolitan pointed out, AT&T — which owns Warner Bros., the initial studio behind Friends — will be launching its own streaming service at the end of 2019. Worst case scenario: Fans will have to wait for a year to binge re-watch the series. Which still sucks. But at least there's hope?
Let's just say Twitter promptly erupted into a firestorm of anger and despair since news of Friends' imminent departure from Netflix — all 10 seasons and 230 episodes of the series — was revealed.
One particularly upset Netflix customer tweeted, "Can't sleep so was trying to enjoy some Friends.. then Netflix gives me the notification that friends is LEAVING NETFLIX ON JANUARY 1st. My day is ruined at only 7:30 am.. and also my 2019."
Another clearly emotional Twitter user wrote, "WHY ARE THEY REMOVING THE BEST SHOW EVER MADE OFF OFF NETFLIX? WHAT DID FRIENDS EVER DO TO YOU, NETFLIX? BRB, GONNA GO WATCH EVERY EPISODE FOR THE 80TH TIME."
Some are even contemplating canceling their Netflix subscriptions altogether. (Because I mean, what else is there?) One person tweeted, "Netflix is really removing Friends on January 1st and the only reason I have an account is to rewatch the same episodes of the show whenever I'm bored so I guess it's time to cancel my subscription."
Yet another person was beyond the point of being consoled, tweeting, "NETLIX DONT YOU DARE TAKE FRIENDS OFF. YOU ALREADY TOOK AWAY HOW I MET YOUR MOTHER.. DONT DO THIS TO ME."
Another Twitter user chimed in with, "Wasn't sure what I wanted to start watching on Netflix next and then saw that Friends is leaving on January 1st. So, guess I'll be binging 10 seasons of Friends this month."
Shock and devastation aside, there is a bit of good news to consider. As the Twitter user above pointed out there's still time to completely rewatch all 10 seasons of Friends before it's gone from Netflix forever. (So get your fix in while you still can!) Plus, you can always add the complete Friends series on DVD/Blu-ray to your Christmas wish list. That way, you can binge-watch Ross, Joey, Chandler, Monica, Phoebe, and Rachel to your heart's content without having to rely on a streaming service at all.
Also — and don't hate me for saying this — but, as soul-crushing as the news of Friends leaving Netflix for good is, I'm here to say there is so much more to the streaming giant beyond this beloved series. So why not try something new for the new year? The bottom line: I'm confident we can all make it through this trying time together. And who knows? Maybe you'll even find a new binge-worthy series in the process.