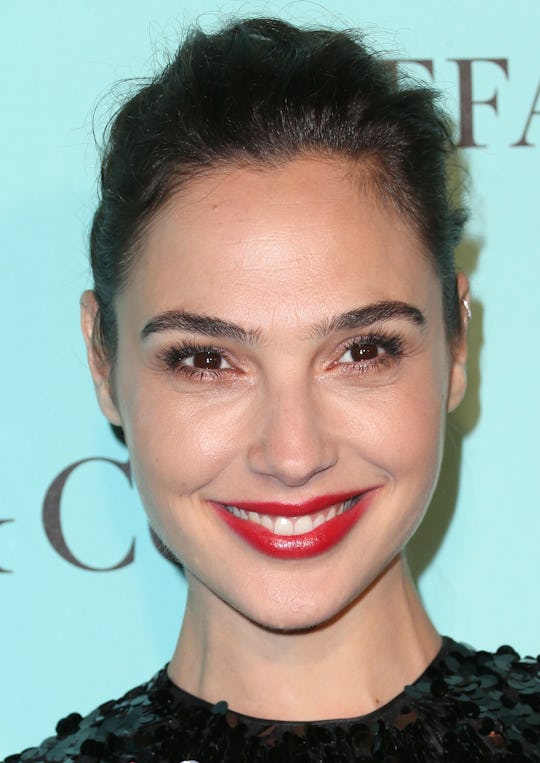 Frederick M. Brown/Getty Images Entertainment/Getty Images
When Is Gal Gadot Due? Wonder Woman Is Expecting Her Second
Justice League, prepare yourself for another superhero-in-training: Wonder Woman star Gal Gadot is expecting her second child. The Israeli actress shared the news via a cute Instagram post Sunday, in which a beaming Gadot and her husband Yaron Versano created a heart with their hands over her belly. "So excited to share this wonder with you..." Gadot captioned the selfie, which came with a proud "#mommyforthesecondtime" hashtag. So, when is Gal Gadot due?
Unfortunately, there's been no news yet on when Gadot will give birth, but most women will wait to announce their pregnancies until they're at least 12 weeks along, so my guess would be that we'll meet the littlest Gadot in spring 2017. Gadot and Versano have also remained tight-lipped on whether or not their newest offspring is a girl or boy, so it looks like the world will simply have to wait for details.
The pair, who married in 2008, are already parents to 5-year-old Alma, who was born in 2011. And while we may not know the second child's due date or gender yet, judging by Gadot's attitude toward parenting Alma, she's going to be a great mom to her soon-to-be brood of two.
"A baby comes with such responsibility," Gadot told Interview Magazine last year. "Once you become a mother, you always have a guilt trip. You always try to do the best, but you feel you can always be better. At the end of the day, I always tell myself that it is very, very important for me to be a good role model for Alma, my daughter."
Alma travels everywhere with Gadot, and Gadot thinks the lifestyle has been good for her daughter. "I look at that as something unique," she told Interview Magazine. "Alma is bilingual; she understands and speaks Hebrew and English. She's very outgoing. Going through all of these experiences and meeting new people and going to different countries and cultures, you can only gain from it."
When asked about what parenting had changed for her during a Glamour interview, Gadot answered:
Priorities. I started to choose my battles better. The Jewish guilt I feel about being a working mom is the hardest thing. I've gotten better. ... It was my husband who told me: 'Gal, think about what kind of a role model you want to be. If you want to show Alma that she can follow her dreams, that's what you should do, and we will figure out the logistics.'
See? Wonder Woman struggles with the same parenting woes as all other mothers do. But — like most mothers out there — it sounds like she's doing an awesome job of figuring it all out. And now, with a new baby on the way, Gadot will get to embark on an entirely new parenting journey, adding a fourth member to her little family. Congratulations to the happy family!