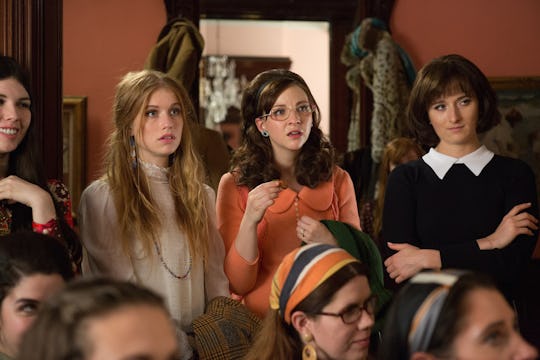 Jessica Miglio/Amazon Studios
When Is 'Good Girls Revolt' Season 2? The New Amazon Series Is Already Doing Well
Just call it the Mad Men sequel you never knew you needed, because Amazon's Good Girls Revolt is hitting it on the nose with all of the feminist aspects of the 1960's workplace that Mad Men never quite fully explored, given that a majority of the story was told from a man's point of view. And even though the series only just officially premiered on Oct 28, it's already getting the kind of attention and accolades that make you want more. So, when is Good Girls Revolt Season 2? As of now, there has been no official order yet of the second season of Good Girls Revolt, but the fan rating and viewership of the pre-released first episode make it seem pretty obvious that there will be a Season 2 at some point in the future.
The period show (yes, another one, but trust me, this one breaks the mold) is based on the Lynn Povich book, Good Girls Revolt: How the Women of Newsweek Sued their Bosses and Changed the Workplace. It follows the story of three women and the true events of the two equal opportunity complaints they filed against Newsweek at the time. Of course, in the Amazon show, names and publications are changed a bit (News of the Week is a fictional magazine), but the historical undertones are there. The series even has Joy Bryant (Parenthood) playing Eleanor Holmes Norton, who famously led the original Newsweek complaint, and daughter of Meryl Streep Grace Gummer (Mr. Robot) as the one and only Nora Ephron.
Already, Good Girls Revolt has a 7.2 rating out of 10 on IMDB and 4.6 out of five stars on Amazon, based on 3,900 reviews. Rotten Tomatoes has also given it a high score, with the show landing at 71% rating, based on the reviews of 14 people. And, mind you, this is all based off just one episode.
But even after just watching the series premiere, you can't help but wonder where these strong women, who paved the way for a lot of women today, are going to go next in their struggle. And in turn, you can't help asking when Season 2 of Good Girls Revolt premieres on Amazon. Because all signs are pointing to an order of a second installment. But now that the first season has officially kicked off, I'm sure it won't take long for fans to get even more attached to these women who are going to quickly become our friends and idols.
You can watch the original Amazon series only on Amazon, free with your Prime membership, with all of the episodes released for streaming on Friday, Oct. 28.