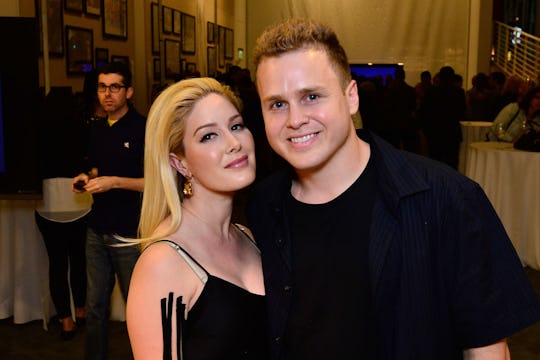 Jerod Harris/Getty Images Entertainment/Getty Images
When Is Heidi Montag Due?
It's been a while since "Speidi" were in the headlines (remember that name?) but they're back, and this time, they have good news. The former reality stars are expecting their first child, and if you're wondering when Heidi Montag is due, it appears that the couple followed the traditional advice of waiting 12 weeks to reveal their pregnancy to the media; the baby is set to arrive on Oct. 19, exactly 6 months after its parents' Us Weekly exclusive hits newsstands. Spencer Pratt described in an interview the moment that he learned his wife was pregnant: "She was literally glowing. I thought she was about to say she made muffins or banana bread."
Those familiar with the couple won't be surprised by the medium of their announcement; a 2015 Complex interview revealed that they keep a framed gallery of nearly every one of their magazine and tabloid covers in their home, even the ones with less than flattering headlines. They also co-wrote a book entitled How to Be Famous: Our Guide to Looking the Part, Playing the Press, and Becoming a Tabloid Fixture, the cover of which cleverly mimics the instantly recognizable gossip rag layout (although the curious inclusion of a yellow frame evokes National Geographic, for unknown reasons).
Montag and Pratt first got together while Montag was filming the second season of the MTV quasi-reality show The Hills, and their controversial coupling caused a feud with costar Lauren Conrad that soon became the main narrative of the show. Conrad repeatedly excoriated her former friends in interviews in the ensuing years, criticizing them for staging publicity by tipping off magazines to their comings and goings. She eventually left the show.
Montag and Pratt have wavered in and out of the public eye since The Hills wrapped, appearing together on I'm a Celebrity, Get Me Out of Here!, Marriage Boot Camp: Reality Stars, Celebrity Wife Swap, and two seasons of Celebrity Big Brother, and routinely top "most hated" lists, appearing both separately and as a couple. They've also drawn headlines for Montag's infamous 10-hour plastic surgery marathon, Pratt's arrest on firearms charges in Costa Rica, their continued trolling of Kim Kardashian (both on social media and off), faking a divorce for publicity, and squandering millions of dollars ($1 million alone on crystals) because they believed in a Mayan apocalypse prophesy. Perhaps a baby will earn the couple some good will, in addition to a few bucks for the photo rights.