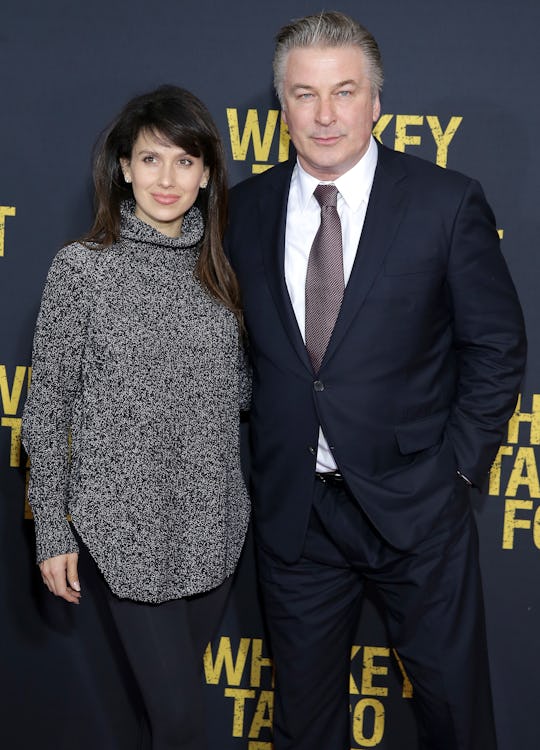 Neilson Barnard/Getty Images Entertainment/Getty Images
When Is Hilaria Baldwin Due? She Just Announced That She's Expecting Again
Hilaria Baldwin is expecting again. On Wednesday, the yoga instructor and always-glam partner to Alec Baldwin's ocasisonal grump shared on Instagram that she is pregnant. So when is Hilaria Baldwin due? Probably early next fall, but maybe we should all back up a bit. Didn't she just have a baby? Doesn't she have two already?
Who cares? She and Baldwin seem stoked to announce that another baby is on the way. She captioned her photo today with, "Ireland, Carmen, Rafael, Alec, and I are excited to share with you that we are going to have another addition to our family. A little boy coming this fall." Blue heart emojis and good vibes abound.
This is the Baldwin's third child together. They welcomed daughter Carmen into the world in August 2013, while son Rafael arrived just this past June. Following the birth of Rafael, a lot of haters commenting on how she lost all of her pregnancy weight so quickly. It kind of clouded all of the fun. She shut down those haters right away, telling Cosmopolitan:
I gave birth about 10 weeks ago, but I'm not trying to lose the baby weight. I've come to a point in my life where I'm not trying to be skinny, I'm just trying to be healthy, and I've found that if I don't really stress about it, the weight kind of just comes off.
Before you start to lay on the hate, I have to divulge in the name of journalistic ethics that as a New Yorker (with bad financial judgement), I have paid to roll around on a yoga mat in the very back of Baldwin's overbooked mixed level yoga classes when she still teaches them. Please note that although I can hardly rock a comfortable downward dog, Baldwin always had a way of sounding cheerful and optimistic about my chances of schlepping into a headstand, no matter the time of day or increasingly rising temperature in an overcrowded room off of Union Square.
So not only does she put up with my poor sun salutations, but she deals with Alec and Internet haters. That must take a level of zen many of us mere humans could never even pretend to attain. And it's that kind of zen that will carry her through this third pregnancy, which she seems super happy about.
Picking on a woman for being comfortable enough to create the kind of family she wants and maintain her fitness regimen is totally unfair. Let's hope the haters will lay off Baldwin if she manages a rocking yoga bod after baby number three. Because that's just bad for business.