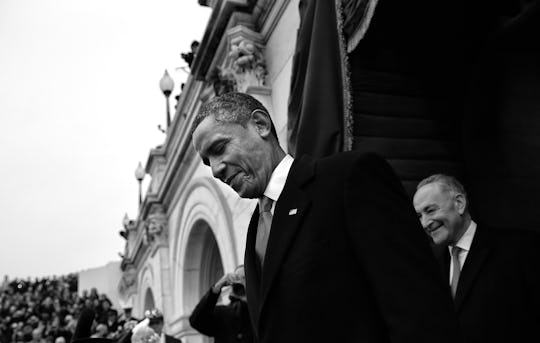 Win McNamee/Getty Images News/Getty Images
When Is Inauguration Day? It's Not Until January 2017
We knew the day would come. Beloved President Barack Obama has to go. He'll retire to another home in Washington, D.C., kick it with Michelle, play ball with Joe, and probably continue to lovably embarrass his daughters, all while remaining The Coolest President Ever. It's not fair that we have to see him go, but we know it's necessary. But when exactly will he have to go? He'll have to leave the White House by Inauguration Day to make room for the next president. But when is Inauguration Day? It's not until Friday, Jan. 20, 2017, so we have a couple of months to say our goodbyes.
The inauguration will take place on the West Lawn of the United States Capitol building in Washington. According to a D.C. travel site, tickets to the swearing-in ceremony are free but highly coveted, and they must be applied for through a local Congressperson's office. If you can't get tickets to the ceremony, there's still a chance to see the president-elect in the processional on Pennsylvania Avenue before the ceremony. And of course, several hotels and even the Newseum are hosting special viewing events where visitors can see the whole ceremony — for hefty prices that start around $500 per person. The city has been planning for the inauguration for at least a year, according to the Washington Post, and it's been planning for VIPs. For good reason, too. When there are people like Beyoncé performing at the event, we can expect a level of luxury.
If you're less of a stand-outside-for-hours-in-the-freezing-cold kind of person, and more a get-dolled-up-for-a-ball kind of person, there are always inauguration parties and balls to attend. Of course, many of those are super expensive and fancy, too. Most are also in Washington.
For us common folk who plan on tuning into the event remotely, the inauguration ceremony will obviously be broadcast on all the usual channels. I'll probably end up watching a live stream on my laptop.
Whichever route you take, you definitely won't want to miss it. History will be made regardless of which way the election goes. If Hillary Clinton is elected, she'll be the first woman to hold the country's highest office. It would be a huge step for women everywhere, and the inauguration would undoubtedly ring in a new era of progress for women's rights. If Donald Trump wins, he'll be the first non-politician to take office. (He'll also be the first president to have called Mexicans rapists, bragged about sexual assault, and proposed halting immigration to an entire class of people on the basis of race.) So, yeah. It'll be an event to watch either way.