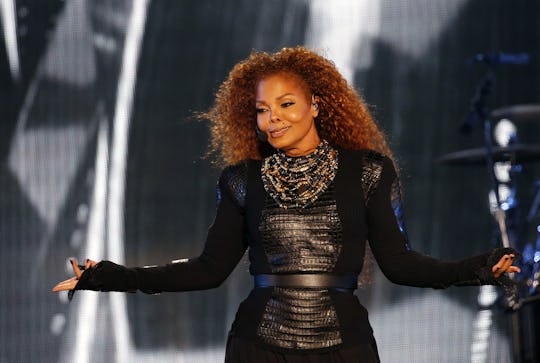 KARIM SAHIB/AFP/Getty Images
When Is Janet Jackson Due? She Just Announced Some Exciting News
Just a month after postponing the second leg of her current tour to focus on family, sources confirmed Wednesday that Janet Jackson is pregnant with her first child. In early April, she asked fans to "please understand" that she wasn't giving up on performing, but that she needed time, due to "doctor's orders," to rest up. Looks like fans now know what those "doctor's orders" were. The 49-year old pop star tweeted on April 6 that she and her husband, Wissam Al Mana, were planning a family. "We're in the second leg of the tour and there actually has been a sudden change," she said in a video tweet. "Please, if you could try and understand that it's important that I do this now...But I have not forgotten about you. I will continue the tour as soon as I possibly can," she said.
That's the way parenthood goes, right? It's all about sudden changes. It also gives some new meaning to her most recent single "Dammn Baby" from her most recent album, Unbreakable. OK, the single isn't obviously about an actual baby but it's fitting that Jackson has some very good news to share with Rhythm Nation.
The pregnancy announcement is good news for fans. There were rumors in February after Jackson went in for a surgery that she was having a cancerous tumor removed. Jackson immediately put those rumors to rest by announcing the start of her European Unbreakable tour and added "The rumors are untrue. I do not have cancer. I'm recovering," to the end of a lyric video for "The Great Forever," according to a report by Entertainment Tonight.
Its unclear from the reports when exactly Jackson is expecting her first child or what her surgery in February was all about. But Janet has always been a private woman. Even her marriage to Al Mana was a private ceremony in 2012 and their wedding gifts to each other, according to People magazine, were donations to their favorite children's charities. Obviously, family and kids have been on both of their minds for some time.
Although it's a huge bummer for anyone who planned on seeing Janet perform this year that she has to cancel her tour, it's all for a good cause, right? Jackson put it best in April when she made the cancellation announcement. "Your undying love, your loyalty, that means so much to me," Jackson said. "You are truly appreciated and it's been a long journey."
It looks like Jackson and her husband have the crazy adventure of parenthood ahead of them. But you're still forgiven for hoping these nine months pass as quickly as possible while you wait for a chance to see her pick up where she left off on the Unbreakable tour.