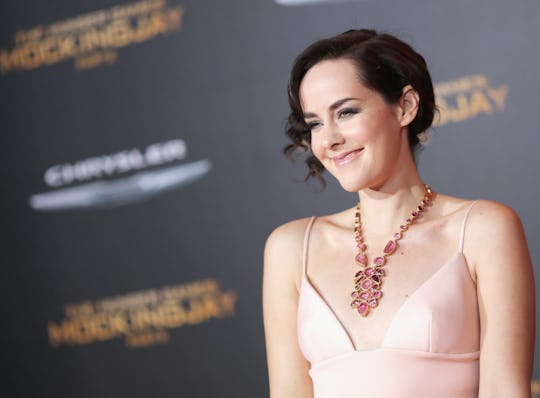 When Is Jena Malone Due? The 'Hunger Games' Star Is Expecting Her First Child
On Wednesday, actress Jena Malone shared some very exciting news on her Instagram page: she and boyfriend Ethan DeLorenzo are expecting their first child. The 31-year-old star, known best for her role as Johanna Mason in the The Hunger Games, announced her pregnancy by sharing a maternity photo taken by DeLorenzo, also known as "beautiful hearted baby daddy." And I — a slightly obsessed Hunger Games fan — have so many questions. I mean, is Malone having a boy or girl? When is Jena Malone due? It looks like the answer to the latter is unclear, but the pregnancy is showing in her photos, so she's much further along than just a few weeks.
It seems only time will tell — because I don't guess gender or due dates and because Malone herself has yet to say anything. That said, what she has said so far is beautiful and touching (and one of the best Instagram captions I have read in a long time):
Womb to womb / To beating wing / I climbed out of the eternal / And into the shape of me
She went on to say:
Some words I wrote years ago when I was thinking about my own mother. And the woman she was when she had me. And the woman I was reaching to become. The shape your desires make out of you. The body you become to hold your dreams. It's with two feet firmly on the ground and a heart swelling in an ocean of love that I'd like to share the new shape I am becoming to hold the greatest dream of them all. #babybump #newparents
(I mean, stahp!)
But wait, there's more. About an hour after Malone posted a pregnancy Polaroid on her Instagram, DeLorenzo posted one of his own.
And while his caption was simple, it said so much:
My family. @jenamalone and my child to be.
While Malone's most memorable role was a ruthless killer from District 7, she has also appeared in Pride and Prejudice, Into the Wild, Contact, and Sucker Punch. She is slated to appear in the forthcoming Batman V Superman: Dawn Of Justice film (March 2016) and was cast alongside Keanu Reeves in forthcoming thriller The Neon Demon.
DeLorenzo is a musician and producer for Decadent Wreckords. He has dabbled in photography and previously was a member of Chris Brown's band, touring with the singer from 2010 until 2012.
The adorable couple has been been dating for quite some time, and the news of their first child is exciting and adorable. Hopefully they'll release the baby's sex and due date soon.
Images: Mark Davis/Getty Images Entertainment; uglyhippie/Instagram