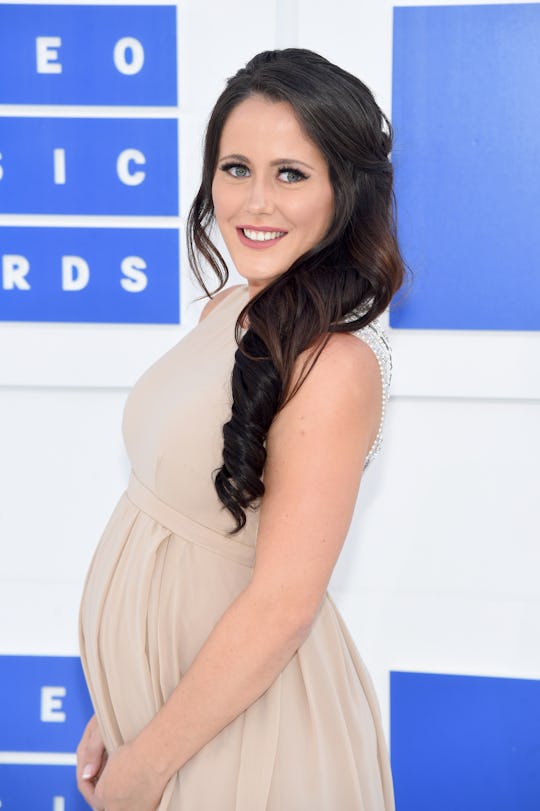 Jamie McCarthy/Getty Images Entertainment/Getty Images
'Teen Mom' Jenelle Evans Is Ready For Baby
In exciting baby news, Teen Mom 2 star Jenelle Evans is about to have her third child. For those fans wondering when Jenelle Evans is due, the answer is... any day now. And Evans is definitely ready.
The reality TV star, who first became well-known on MTV's 16 and Pregnant, is expecting a baby girl with her boyfriend, David Eason. Eason took a photo of Evans, with a huge smile on her face and an ample baby bump sticking out of her shirt, at a doctor's appointment, and then shared it on Instagram on Sunday, with the caption, "Happy and healthy!" Evans soon tweeted out the photo, writing, "That's one BIG belly! she's taking over my body!!!!!" The 25-year-old Evans is officially due on Jan. 28. And all those wondering what she will name the baby girl need speculate no longer. Evans has already announced that she and Eason will be calling their daughter Ensley.
This will be Evans' third child, although her first with Eason. She has a 7-year-old son, Jace, with an ex-boyfriend named Andrew Lewis, and another son, age 2, with ex-fiancé Nathan Griffith. Meanwhile, Eason also has two children from previous relationships. So little Ensley will be joining a full little family, ready and excited to welcome her.
And Evans is particularly excited to be having her first girl. As she told Us Weekly,
I've got my girl now, and I'm very ecstatic, very happy to be actually decorating stuff and all girls' stuff, and all my friends are like, 'Oh, my gosh, you're going to be so spoiled!' Because all my friends, they just have little boys, so it's like everyone is just so super excited for me!
The Teen Mom 2 star has gone through a rough couple of years, from being arrested for heroin possession, to alleged incidents of domestic violence, to an abortion captured on Teen Mom 2, all in the glare of a very public spotlight. But since she and Easton got together back in mid-2015 (after meeting on Tinder! Stars! They're just like us!) it seems like she's been thrilled with the way her life has been going, and has been in a much healthier place.
And when she spoke to People back in August, shortly after announcing her pregnancy, it seemed like she'd learned some important lessons about motherhood from her previous experience. She told the magazine,
The most important thing a parent has taught me is definitely keep calm when your children throw temper tantrums. Because it can get crazy.
It's safe to say that whenever the little one arrives, Evans will be ready and full of love to give.