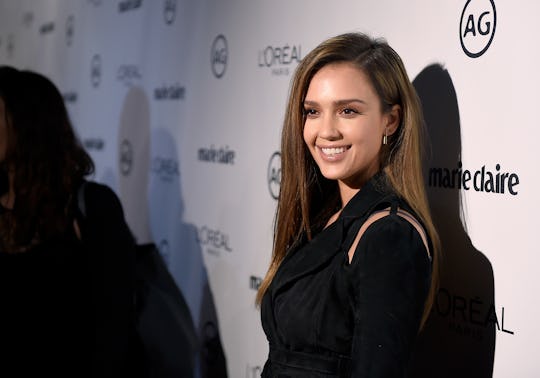 Matt Winkelmeyer/Getty Images Entertainment/Getty Images
Here's What We Know About Jessica Alba's Due Date
In an absolutely adorable Instagram post, Jessica Alba announced on Monday evening that she's pregnant with baby No. 3! Fans can hardly wait to meet her and husband Cash Warren's impending bundle of joy, so many people are probably wondering when Jessica Alba is due and when they can expect to meet their sweet family's latest addition. And can you blame them?
"Cash and I are officially going to be outnumbered," Alba wrote on Instagram, adding the hashtags #babyonboard, #herewegoagain, and #blessed with some adorably appropriate emoji.
While the 36-year-old expectant mom didn't reveal many details in her announcement on social media — which featured her and the couple's two daughters in a cute Boomerang clip — there are a few clues to help fans pinpoint an approximate time-frame to look out for.
According to Babycenter.com, a lot of women choose to tell their friends and family they're pregnant "at the end of the first trimester" — which is usually around week 12 or 13 — because the risk of miscarriage drops dramatically. If Alba stuck to that rule of thumb, we can probably expect her third child to arrive sometime this winter or early next year.
Although Alba didn't share whether they know the sex of the baby, expectant parents can find out if they wish at this stage as well, according to Healthline.
Alba and Warren are already parents to two daughters: 9-year-old Honor and 5-year-old Haven, according to People.
And although Alba has almost a decade of parenting experience under her belt, she told People earlier this year that she's "constantly evolving as a parent."
"I don't try to pretend like I have all the answers and I certainly don't think I'm perfect," she told the outlet in February. "So when my kids say something, instead of me being so reactive, I think about how I can be better."
While Alba said she's always trying to find ways to be a better mom to her kids, she did previously reveal that her Mexican culture has influenced her parenting style. She told People last year:
My heritage is all about family, which always comes first. And respect for yourself and for your elders is something that I'm passing on to my daughters. I make sure they know where they came from and that they spend time with their relatives, but they're not surrounded by it all the time. We have different cultures in the house.
Alba has often been refreshingly open about motherhood. And it's only a matter of time until she has some words of wisdom to share with her fans about baby No. 3.