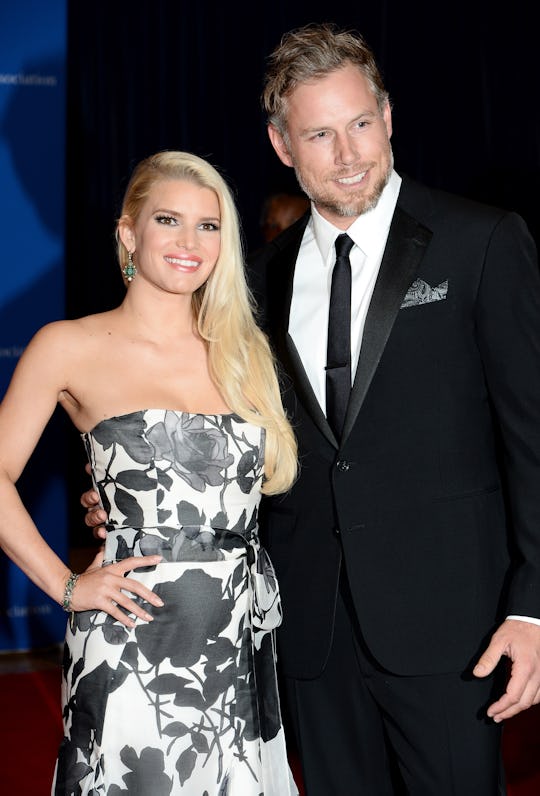 Dimitrios Kambouris/Getty Images Entertainment/Getty Images
Here's When Jessica Simpson *Could* Give Birth To Baby No. 3
by Christina Montoya Fiedler
Congratulations are in order for yet another celebrity couple. Jessica Simpson and her husband Eric Johnson made it Instagram official and announced their third pregnancy and pending arrival of a baby girl sometime next year. But this brings up an important question fans must be wondering: When exactly is Jessica Simpson due with her third child?
Simpson announced the pregnancy earlier today — Tuesday, Sept. 18 — in a series of two Instagram posts showing her children, 6-year-old daughter Drew and 5-year-old son Ace, helping with a balloon-pop sex reveal in the couple's back yard.
In the first adorable post, the duo held two huge black balloons with white polkadots with the caption, "SURPRISE!" In the second post, the children can be seen smiling among a flurry of smaller pink and white balloons. Simpson wrote, "This little baby girl will make us a family of five. We couldn't be happier to announce this precious blessing of life."
And to top it all off, Simpson then posted a photo of herself lovingly caressing her growing bump. She simply captioned it as, "My baby love."
Now, if you want to find out when Simpson is due this time around, let's back track a little. She just celebrated her 38th birthday over the summer. According to E! News, she married Johnson in 2014, but had her children in 2012 (Drew) and 2013 (Ace).
While the first two were close, the third is spaced about five years from son Ace. Five years is, coincidentally, the amount of time a hormonal IUD like Mirena remains effective, according to its manufactures. She talked about her plans (and her IUD) last May in an interview will Ellen DeGeneres, though she did not disclose what kind she had. According to HuffPost, she said:
We got an IUD, nothing's gonna get in that uterus... I have two beautiful children and I'm not having a third. They're too cute ― you really can't top that.
Just a few months ago, she was snapped in the Bahamas taking a sexy, kid-free vacation with Johnson, according to TMZ. Could this be when they conceived? It's highly possible. In an interview for Parent's Magazine, Dr. Melissa Esposito said, "A woman may try to conceive right after the IUD is removed. It takes the average young couple about 4-6 months to conceive and after one year approximately 85-90% of couples will conceive."
To recap, it's possible her IUD surpassed its life span, was removed, and she then conceived shortly after.
As for the timing of the announcement, most women wait until the third month to announce a pregnancy, partially because it's when the sex of the baby can be detected, according to BabyCenter, although there have been cases of finding out before that. Additionally, according to Healthline, the risk of miscarriage is much higher in the first trimester, so many will wait until after this mark to announce.
With all these facts, one can conclude that her baby might be due in the early part of 2019, perhaps as early as March.
No matter what the due date is, here's hoping that Simpson has a smooth pregnancy, and has the time to enjoy it with her two kiddos and doting husband. Congrats to the whole Simpson-Johnson clan!