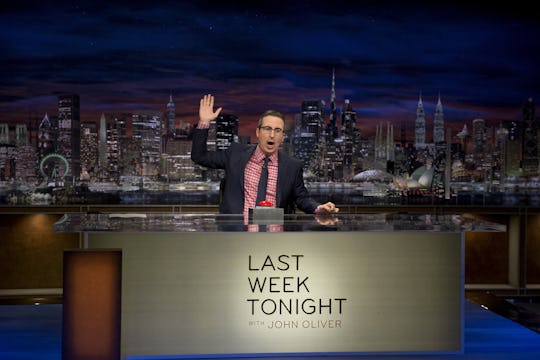 Eric Liebowitz/HBO
John Oliver's 'Last Week Tonight' Needs To Return ASAP
In a political climate as fraught as this one, I'm always grateful for the insight of John Oliver to either assuage my fears, or at least assure me that I'm not alone in my worry for the future of the country. Since November, however, he has been off the air, leading me to wonder, not for the first time, when is John Oliver's Last Week Tonight coming back? I mean honestly, how much down time do the people running this show really need? The country needs you, Last Week Tonight. I need you.
It looks like, as per usual, Last Week Tonight will pick up again in February. This year's return date is set for Sunday, Feb. 18 at its usual time of 11 p.m. EST. It will be available for streaming on HBOGo at midnight (not live, as many other shows are). This is just a few days after Valentine's Day, the Worst Holiday Ever, in my opinion, so I am looking forward to lots of jokes about loneliness, chocolate, and corporate America. And of course, a brief recap of all the things Donald Trump has tweeted in the previous three months. It's the little things in life that make me happy, you know?
Excepting the first season, which aired in April of 2014, Last Week Tonight always takes a break in mid-November, just before Thanksgiving and the whirlwind of the holidays sets in. It then returns for another season in February of the following year, to take on a whole new year's worth of problematic national policies, Stupid Watergate, corrupt politicians, and other things that people would ordinarily consider painfully boring until John Oliver breaks it down and explains why we should all care. His takedown of Net Neutrality is a good example of this. Of course, now that Trump is president, Oliver's commentary has gotten even more brutal (and necessary) than ever before.
When the White House is a circus as it is right now, it apparently takes a comedian to draw attention to the most serious issues facing Americans today. Because up is down and the world is flat and nothing makes sense any more. So if you're still jonesing for some political humor to help you get through this difficult time in our nation, there are plenty of other shows on the air to get you through. The Daily Show with Trevor Noah has already returned in the New Year. Meanwhile, Full Frontal with Samantha Bee returns to TBS on Jan. 10, so go ahead and tap into that wonderful lady's anger as well.
This doesn't even touch on the scores of Late Night hosts who have pivoted from simply interviewing celebrities and playing silly games with strangers to making political jokes. Stephen Colbert, Seth Meyers, and Jimmy Kimmel have all been relentless in their political take-downs, jokes, and sometimes heartfelt pleas to the American people as in the case of Kimmel.
Basically, it seems that what people really want these days is more than just light entertainment. People want to know what's going on in the world as much as they want to be entertained. Which I personally think is awesome. I'm only a little frustrated that my favorite of these comedians turned political pundits, John Oliver, has to take such a long break. Not only do I find his comedy the funniest out of all of them, but he often draws my attention to issues I didn't even realize were issues. So obviously, I can't wait for Feb. 18 and his much-anticipated return.
Check out Romper's new video series, Romper's Doula Diaries:
Watch full episodes of Romper's Doula Diaries on Facebook Watch.