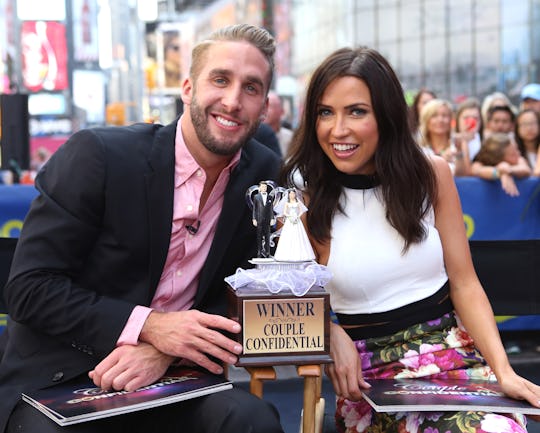 When Is Kaitlyn Bristowe & Shawn Booth's Wedding? 'The Bachelorette' Couple Released Amazing Engagement Photos
Usually the Bachelor lovebirds never make it very far after the show ends, but Kaitlyn and Shawn from The Bachelorette are getting married. Just before the holidays, the couple shared their engagement photos with Brides magazine and gave an exclusive interview about their wedding plans. But when is Kaitlyn Bristowe and Shawn Booth's wedding? The couple still hasn't set an official date, but they're slowly releasing more and more details about the wedding.
It seemed to be love at first sight way back after the first impression date, and the couple has stayed together since The Bachelorette's July finale. The couple's engagement photos are pretty adorable, with the duo hanging off of pickup trucks and bales of hay on a farm. Bristowe told Brides magazine that it was a perfect melding of their aesthetics:
It was our kind of setting, and we felt comfortable with our photographer, Tiffany. We both have a pretty good sense of humor and that helps!
Bristowe also told the magazine that she thinks Booth is her soulmate (and who could deny their chemistry?):
I truly believe we were meant to be together. He is my type to a T. I didn't even know I had a type until I met Shawn. Everyone asked us how it was going to be when the fancy extravagant dates were over and the cameras were off, and we both agreed that we couldn't wait for that. It has only gotten better.
She also said that she would prefer to have a big open bar over a fancy, expensive wedding dress, according to the Huffington Post.
They're almost so cute it hurts. Let's hope they set a date soon. It's not easy being a reality TV couple.
Image: Fred Lee/Disney ABC Television Group/Getty Images