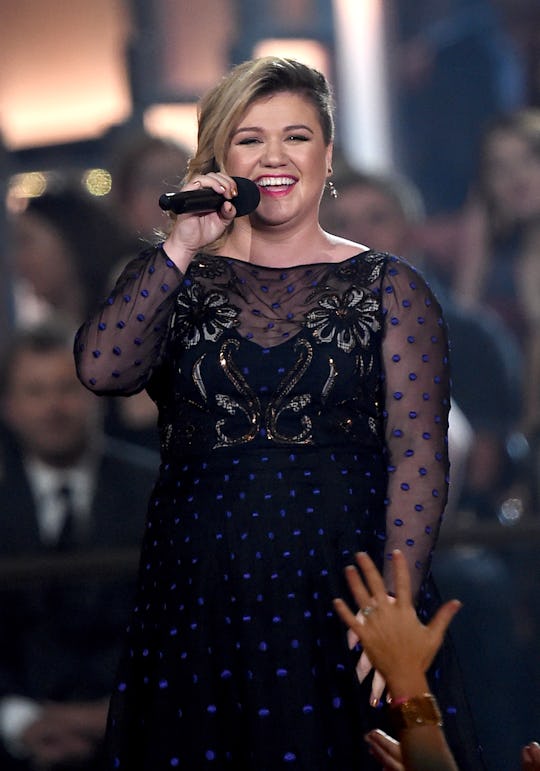 Ethan Miller/Getty
When Is Kelly Clarkson's Due Date? River Rose's Brother Will Be Born Very Soon
Considering she's been an 11-time Grammy nominee since she burst onto the music (and TV) scene in 2002, it's safe to say Kelly Clarkson is a mainstay when it comes to the annual music awards show. But, at the 2016 Grammys, you won't find Clarkson anywhere — that's because the singer, who's expecting her second child, was told to minimize travel by her doctors. Which means Kelly Clarkson's due date is steadily approaching. But when can we expect to meet River Rose's younger brother?
It's hard to say when Clarkson's son, who will join 20-month-old River, will join Clarkson's musically inclined family, which includes the singer's husband, Brandon Blackstock, who is stepson to Reba McEntire. That's because Clarkson herself hasn't revealed many details about her son's birth beyond the fact that River will be an adorable older sister. But what do we know so far? Well, first, we at least know Clarkson was pregnant in August, when she told the Staples Center in Los Angeles after breaking down performing "Piece By Piece," "I was not planning on announcing this. I'm totally pregnant again."
Considering, according to BabyCenter, announcing your pregnancy after the first trimester is fairly standard, one could assume Clarkson became pregnant in the early summer. And Clarkson might have revealed a clue herself when she said she would be unable to attend the Grammys in order to shoot the final season of American Idol. As she said on On Air With Ryan Seacrest earlier this month,
I was going to do the Grammys and Idol, and then my doctor was kind of like, I just have such hard pregnancies, flying back and forth to L.A., like if they were closer together, I would've done both, but I had to kind of choose one.
Considering, according to some doctors, travel for pregnant women becomes more difficult at 32 weeks, Clarkson could be expecting her son in the next month, if not in the next few weeks.
In the meantime, here's hoping that Clarkson's struggles with her second pregnancy have been eclipsed by the joy of an approaching due date — in November, the singer spoke to CBS This Morning about "all-day sickness," telling Gayle King, "I have to get IVs and fluids because I get so dehydrated. It's really bad."
Not bad enough, however, to keep Clarkson from live TV — the singer will be judging the first live show of American Idol on February 25... providing, of course, her son doesn't make a surprise entrance before then.