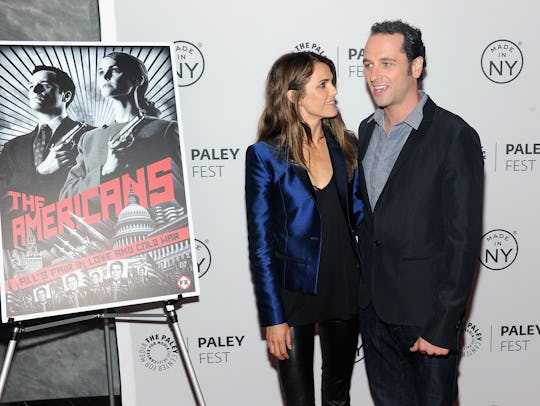 Jamie McCarthy/Getty Images
When Is Keri Russell Due? She's Already Got Plenty Of Experience Under Her Belt
Season four of The Americans just got a lot more exciting. On Wednesday, Us Weekly reported that Keri Russell was expecting a baby with boyfriend Matthew Rhys, and though the news just broke, people are already wondering: When is Russell due? On Wednesday, sources claimed that the newest addition to the Rhys/Russell family would be here pretty soon.
According to the Us Weekly report, Russell is four months along already. While this is Rhys' first child, it will be baby number three for the 39-year-old. In 2013, Russell split from her husband of seven years, Shane Derary, with whom she has two children. "They have been separated since early summer," the actresses' rep told People in December 2013. "The separation is amicable and their focus is on their children."
In the past, The Americans co-stars have dodged questions about their relationship, but rumors began to circulate in December 2013 after Russell and Rhys were seen hanging out in her Brooklyn neighborhood during the holidays. At the time, reps for the couple did not comment on the sighting. In April 2014 however, sources once again claimed the couple was dating after Rhys and Russell were seen cozying up at a play in New York.
The Americans star, who plays Elizabeth, a KGB spy working alongside her husband Philip (played by Rhys) in Washington, D.C. during the Reagan era, talked to The Los Angeles Times in February about how her character balances a career and motherhood. "I mean, I think she is fiercely protective and loving of her children. Fiercely," she said, responding to whether she thought Elizabeth saw herself as a mother or a spy first. "And I think just because Phillip is kind of the more emotional, nurturing [one] it doesn't mean she's not."
Russell added that Elizabeth was a "better parent" because she did her job (spy work) better. "Her doing her job better protects her kids more," she explained.
Russell has also discussed about the struggles of a being a working celeb mom. "You instantly become less selfish," she said. "You can't be the biggest person in the world anymore—they are. It really grounds you."
Russell already seems to be well-equipped to take on the newly-announced pregnancy. All that's left to do now is to figure out exactly when the little tot is expected to make an appearance; Quick math (and a peek at the calendar) tells us that Russell and Rhys will have a late May or early June baby. Really now, is there a more perfect way to ring in the summer holiday?
Image: Jamie McCarthy/Getty Images