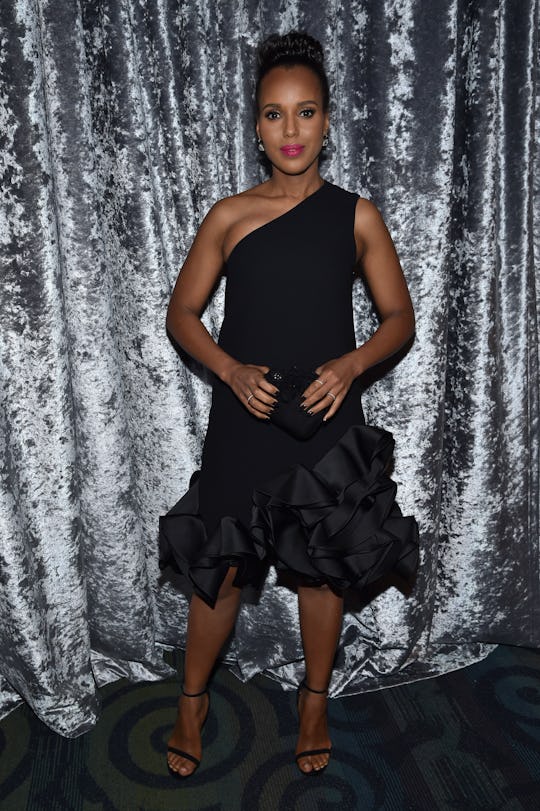 Dimitrios Kambouris/Getty Images Entertainment/Getty Images
When Is Kerry Washington Due? The Notoriously Private Actress Will Likely Stay Mum
Kerry Washington — everyone's favorite and best-dressed Gladiator — stunned at this weekend's White House Correspondent's Association Dinner in Washington, D.C., looking ravishing in a black, one-shoulder dress and sporting an eyebrow raising accessory — a growing baby bump. The actress is pregnant with her second baby, making daughter Isabelle a big sister. So when is Kerry Washington due? Chances are she'll keep everyone guessing right up until the end.
Washington and her husband, NFL player Nnamdi Asomugha have confirmed the pregnancy, but fans likely won't get much more than that. Besides her very high-profile work, the Scandal and Confirmation star is fiercely protective of her privacy and has given interviews saying that, while she understands why her friends are more open about their lives with the press, that's not her approach. She said she made the decision to go radio silent on her private life, during an interview with Glamour, after calling off an engagement to David Moscow in 2007 despite gracing the cover of InStyle Weddings in 2005.
"But I couldn't just turn around and say, 'I only want to talk about the good stuff, but not the bad stuff,'" Washington said. "So I just thought, 'OK, no more.'"
Which is too bad for the rest of us, because Washington's personal life looks really fun. Here's one of her tweets from the White House Correspondent's Dinner.
Lucky fans should get another good look at Washington in full pregnancy glow tonight, when she's scheduled to attend the 2016 Met Gala, looking incredible and rocking maternity fashion like a fox, no doubt. Here's a break down of last night's look. She wore a dress from Victoria Beckham. She wore the hell out of that dress, in fact.
But besides her best behind-the-scenes fashion, fans are not likely to get many more details about her baby, including the due date. Last year, just about this time, Washington didn't share much about life as a mom, but did acknowledge all of her fans' support and well wishes.
"Well...I still won't talk about my personal life on here," she said. "But I see your tweets. And I am filled with gratitide! XO #HappyMothersDay."
So we're just left to imagine how magical and wonderful Washington's life at home is, with one daughter and another baby on the way. But there's one thing that's for sure and that the hard working mom has is common with the rest of us: her devotion to all things HBO last weekend.
Gladitators, they really are just like the rest of us. Just a bit better dressed.