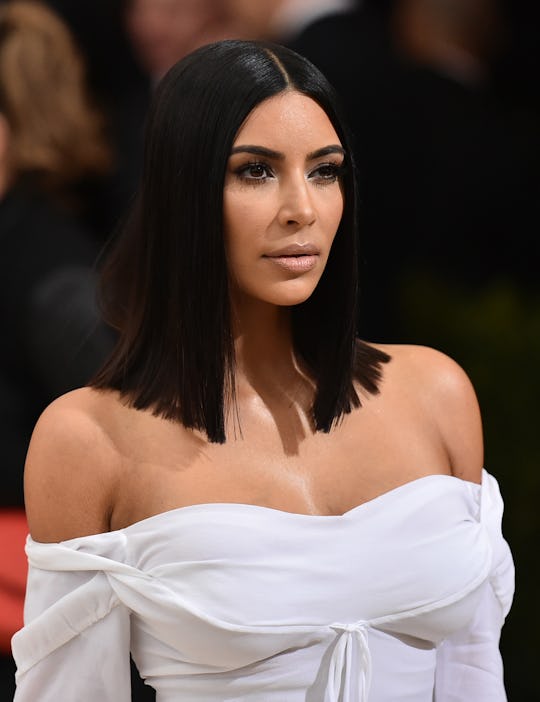 Mike Coppola/Getty Images Entertainment/Getty Images
We May Already Know The Due Date For Kim Kardashian's Third Baby
In June, news broke that Kim Kardashian West and Kanye West had hired a surrogate for their third child. Kim K has been very open about suffering from placenta accreta in the past, and has said she could not carry a third child. Fans, of course, freaked out that the gig of a Kardashian-West surrogate was even available. But, it appears that not only is the job taken, but Kardashian West's surrogate is three months pregnant, according to Us Weekly. Naturally, you're probably wondering when Kim Kardashian's surrogate is due, and you would not be alone.
According to Us Weekly, and just general pregnancy timelines, Kim Kardashian could welcome her third child at some point in January 2018. Knowing that Kim's surrogate is already three months along, it is probable that the insemination occurred around April 2017. According to the report, the surrogate was referred to the Kardashian-West family by an agency, and are in good hands, considering the surrogate has reportedly "served as a surrogate before, even appearing in a promotional video about the process with her own family."
We know very little about the surrogate — privacy is super important for something of this scale — but the little information we do know seems very promising for the soon-to-be (third time) parents. Us Weekly reports that in addition to having been a surrogate before, Kim K's choice is "a San Diego mom in her late 20s."
In the past, Kardashian West has been very open about her struggles during pregnancy. She was warned that after two high-risk pregnancies, she would put herself at a high risk carrying a third. After her first two pregnancies, Kardashian West has revealed that she had placenta accreta, which is a condition in which the placenta grows into the wall of the womb. American Pregnancy reports that 1 in 2,500 pregnancies experience placenta accreta, increta or percreta, which all increase in severity and penetrate the uterine muscle more, respectively.
TMZ reported in June that the surrogate would allegedly be paid $45,000 in 10 monthly installments, $5,000 for any additional kid that comes from the surrogacy, and $4,000 for any lost reproductive organs during the process. Additionally, TMZ says that Kimye had to put down a $68,850 deposit with the agency for the surrogacy, as well.
Congratulations to the Kardashian-West family on the happy news.