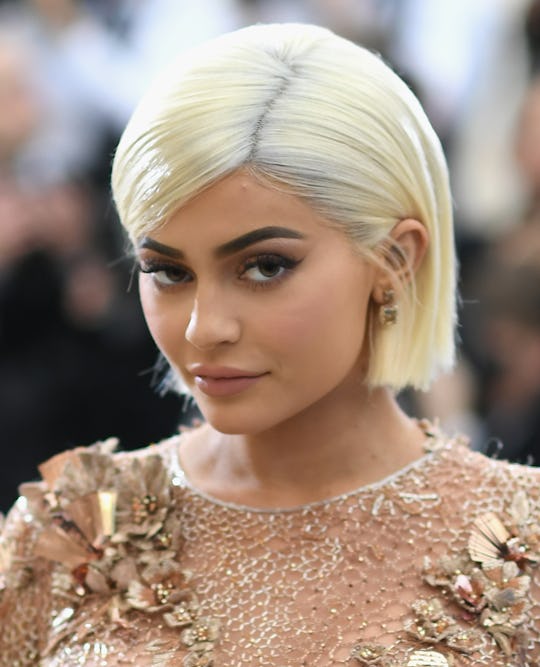 Dimitrios Kambouris/Getty Images Entertainment/Getty Images
Here's When The World Can Expect Another Jenner Baby
Just when you thought 2017 couldn't be anymore surprising, TMZ broke the news to end all news: Kylie Jenner is reportedly pregnant. But when is Kylie Jenner due? Here's everything you need to know before another Kardashian/Jenner enters the world.
Romper has reached out to Jenner and Scott, but have not heard back at the time of publication.
According to TMZ, Jenner and her boyfriend, Travis Scott, have been expecting a baby for some time, and have even told their separate friend groups that they're going to be parents in the coming months. And while no due date has been officially released by either Jenner or Scott, TMZ was told by Scott's friends (although they cannot verify this tidbit of information) that Scott has been beaming about having a baby girl.
For those of you who have yet to procreate, and according to BabyCenter, most people find out the sex of a fetus between 16 and 20 weeks gestation. Yes, you can find out sooner, usually by other, more invasive methods than an ultrasound (say, noninvasive prenatal testing) but when a mother is young, healthy, and doesn't have a history of health problems, those tests are rarely necessary. So, if the "rumors" are true, it's safe to assume Jenner is probably around 20 weeks pregnant. That would put her due date in and/or around the very end of January 2018, or the very beginning of February. What a way to kick off the new year, right?
Jenner is, of course, a household name, thanks to her famous family and their reality television show, Keeping Up With The Kardashians. Scott is no slouch, though. Born Jacques Webster, Jr., Scott is an American rapper, singer, songwriter, and record producer who, apparently, can afford to buy his reportedly soon-to-be baby mama a piece of jewelry with 28 carats of VVS diamonds, worth about $60,000, according to TMZ. For Jenner's latest birthday, the Houston, Texas rapper also set up a private orchestra show. If romance is the name of the game, Scott's definitely on the starting roster, my friends.
The couple, according to TMZ, have been dating since April, so while their courtship hasn't been a long one, they're about to get to know one another pretty well, now that a baby is on the way.
TMZ has also made note of a few, potential, signs that Jenner has been actively trying to hide her pregnancy and feeling all of those hormone-fueled pregnancy feels. "Kylie's been posting old pics of herself on Instagram and current shots from the chest up," reported TMZ. As a formerly pregnant person myself, I can at least attest to the overwhelming feelings of nostalgia that seem to take over when you find yourself growing another human being inside your body. Guys, it's inevitable. So the throwback pictures? Well, TMZ, you just convinced me.
Not much else is known about Jenner's pregnancy or plans for childbirth. But if Jenner is going to walk in her sister Kim Kardashian's shoes (as well as her brother, Rob Kardashians, baby's mama, Blac Chyna), she'll probably end up bringing this baby into the word at Los Angeles' Cedars-Sinai Medical Center, where a luxury hospital suite can go for $4,000 a night, according to Us Weekly. The exclusive suite, according to TMZ, features three beds, two bathrooms, and a lounge area, and just-so-happens to be where Jenner's nephew, Saint West, and niece, Dream Renée Kardashian, were born.
Whatever Jenner's plans are for her pregnancy, labor, delivery, and postpartum life, one thing is for certain: she's going to have the infamous love, support, and financial stability that only being part of the Kardashian clan can provide.
Watch Romper's new video series, Romper's Doula Diaries:
Check out the entire Romper's Doula Diaries series and other videos on Facebook and the Bustle app across Apple TV, Roku, and Amazon Fire TV.