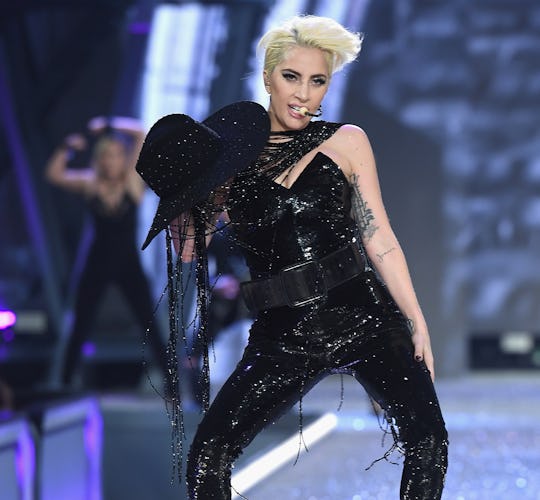 Dimitrios Kambouris/Getty Images Entertainment/Getty Images
When Is Lady Gaga Going On Tour?
Seeing as the pop star has truly done it all by this point, it's no surprise that she'd soon enough add "Super Bowl performer" to her résumé. Avant garde fashionista-turned-belter of jazz standards Lady Gaga will handle the sporting event's halftime show on Sunday night, reminding all of the spectacle's viewers of her powerhouse status. Fans definitely won't be able to get all that they crave from the limited engagement, so when is Lady Gaga going on tour? Gaga released her fifth solo album, Joanne, in the fall of 2016, so certainly something big must be in the works.
Supporters won't have to wait very long to find out when exactly they'll be able to see Gaga in concert. Us Weekly shared that Gaga's tour will be announced on Feb. 6, the day after the Super Bowl. Gaga seemed to confirm this news, though in a roundabout way. On her personal Twitter account, Gaga retweeted a fan account's speculative post about the Joanne tour, which read: "Tour is already booked and to be [announced] after the #PepsiHalftime." The Boston Globe also reported that next summer should bring with it a string of Gaga tour dates, with a Fenway Park stop in the works. "Nothing's official — yet — but the folks at Live Nation are working on it," the paper shared, exciting enthusiasts everywhere.
Seeing as the Super Bowl halftime show has become increasingly political in recent years, many are wondering, given the current state of U.S. politics, what sort of statement — if any — Gaga will make. Though there were rumors that Gaga wasn't allowed to mention President Donald Trump's name at all during the show, the NFL clarified that this wasn't the case. In a press conference about the show, Gaga insisted, though, that she won't stray from her typical message:
The only statements that I'll be making during the half-time show are the ones that I have been consistently making during my career. I believe in a passion for inclusion, I believe in the spirit of equality.
With an anticipated aerial stunt to top it all off, Gaga has promised a "tremendously athletic show" with a special guest or two to boot, and tuning in on Monday morning post-Bowl will give fans the go-ahead to start buying their concert tickers and planning summer travels accordingly. However the final product comes together, Gaga will certainly give fans a much desired, 13-minute reminder of how spectacular and unique her performances can be.