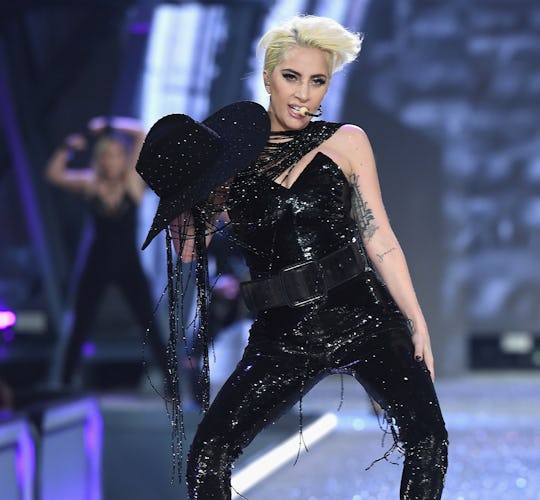 Dimitrios Kambouris/Getty Images Entertainment/Getty Images
Gaga Fans, You're Gonna Have To Be Patient
With her Super Bowl halftime show this weekend, Lady Gaga is officially back on America's collective radar, if she ever really ever left. We could all use a little more of her in our life right now, but if you're waiting for Lady Gaga's next album, it's probably going to be a while (what more do you want from the woman?!). She's just released her first album, Joanne, since Artpop in 2013 and her album with Tony Bennett, Cheek to Cheek in September 2014.
Joanne was released this past fall and it's been on the Billboard 200 since October. That's a big deal, especially in this music market. The album was the fourth largest of 2016 and the second largest for a female artist. Beyoncé's Lemonade, obviously, was the first by a woman. Other big albums included Drake's Views and Frank Ocean's Blonde. So slow your roll if you already need another dose of Gaga — there's more than enough good stuff to tide you over in the meantime.
Joanne is a complicated album. The 30-year-old New York City native named the album after her aunt, Joanne, who died of lupus when she was 19 years old. The whole album is about her and Gaga sort of assumed her aunt's identity to make it — much like some actors do the whole Method thing before filming a new movie. For Lady Gaga, making an album isn't just about writing a few tunes and recording them. It's an artistic process.
She also once told The New York Times that her "whole life is a theater performance." Gaga, born Stefani Joanne Angelina Germanotta, added,that she makes music for marginalized people.
"I became obsessed with writing their stories in musical form," Gaga told the outlet. "It's an endless proving of myself, that I really am a musician, that I have something to offer in the room." She added that she's trying to prove "that women can be musicians, women can be rock stars, women can be more than an objectified idea of a pop star."
So, a new album will come eventually, but it's going to take some time. In addition to everything she's working on behind the scenes at the moment, she's also had to work on her highly anticipated Super Bowl performance, slated for Sunday. According to Us Weekly, the pop star has been working out every day to prepare for the show and there are rumors that her old friend Tony Bennett might even make an appearance (though he's not exactly the first person that comes to mind when you think NFL). There is also talk that she's going start off by flying — yes, flying — into the arena. Like, on a wire. She sort of kind confirmed the rumor and said that it was all her sister's idea, so we'll know who to blame if something goes wrong. Lady Gaga also said that whatever happens, the show is going to be "fantastic."
Uh, obviously. How can anything Gaga do not be fantastic? We'll all wait for the album patiently, Gaga. You've given us plenty for now.