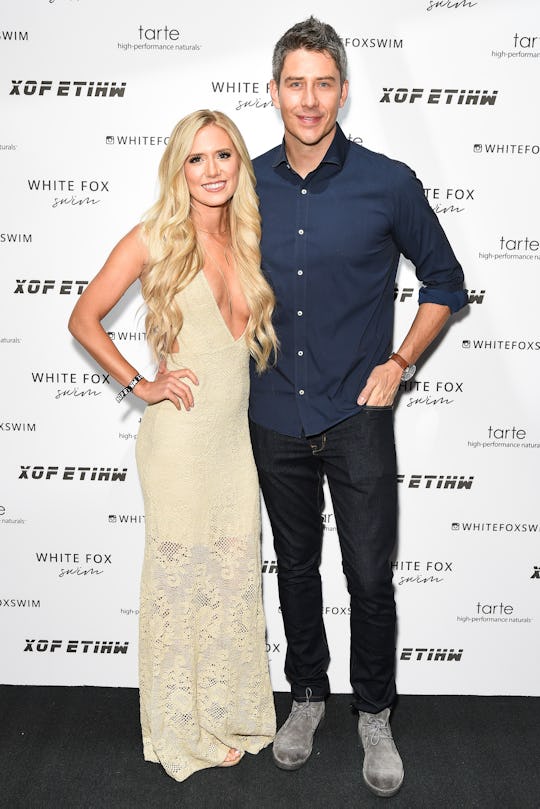 Presley Ann/Getty Images Entertainment/Getty Images
Here's When Lauren & Arie From 'The Bachelor' Could Welcome Their First Child
The Bachelor stars Arie Luyendyk Jr. and Lauren Burnham definitely had quite the dramatic beginning to their love story. Luyendyk Jr. initially proposed to Becca Kufrin, but broke it off when he realized it was actually Burnham he wanted to marry. As awkward and difficult as that may have been though, it seems to have been the right call. Not only are Luyendyk Jr. and Burnham planning on tying the knot, on Wednesday they revealed that they are also expecting their first child. So when is Lauren Burnham due with the next Bachelor baby?
The 26-year-old told Us Weekly that while she and Luyendyk Jr. weren't exactly planning on becoming parents so soon, she's now beginning to emerge out from under the misery of first trimester morning sickness, and is looking forward to becoming a mom for the first time.
In an exclusive interview with the magazine, the reality TV couple shared their baby joy — including sonogram photos! — and discussed what it was like to discover they were expecting while also planning their wedding, which is set to take place in Hawaii in January. And it sounds like it was a seriously sweet moment.
Burnham told Us Weekly, "I kind of had a feeling that I might be pregnant. So my friend insisted on bringing a pregnancy test over. Arie came out with the test in his hand and tears in his eyes. He was like, 'You're pregnant!'"
It's definitely been a big year for the couple: in April, Luyendyk Jr. and Burham purchased their first home together in Phoenix, Arizona, according to Us Weekly, and they also share two dogs, Bastain and Dallas. But while they may have envisioned that their 2019 wedding would likely make the coming year their most memorable yet, it sounds like they'll have an even bigger reason to celebrate only five months later. In Burnham's most recent Instagram post, she shared that she's due to give birth in June.
Yet while an unexpected pregnancy may lead some couples to postpone their walk down the aisle, Luyendyk Jr. and Burnham definitely intend to stick to their original plan. Burnham admitted that "The first thing [they] thought of" after learning they were pregnant was "Oh my gosh. Our wedding," but said that her wedding dress designer, Hayley Paige, was already on board to alter her dress as needed. And given that it sounds like Burnham is only just approaching her second trimester, she may not have to worry about having too big a bump to accommodate. Assuming that she'll be around the 20-week mark when she and Luyendyk Jr. tie the knot, her baby will still only be about the size of a banana, according to BabyCenter.
For now though, Burnham seems to be focused on trying to enjoy her pregnancy as much as possible — and staying active now that she's no longer feeling quite so sick. She told Us Weekly that "October was miserable," and that she "had really bad morning sickness and barely left the house." Now though, the mom-to-be is working with a trainer and "cycling a few times a week," though it's Luyendyk Jr. who appears to be tackling all the household chores. Burnham told Us Weekly that he "does everything" around the house these days, which will no doubt become a huge asset as Burnham's due date nears.
This isn't technically the first time that the couple has made a pregnancy announcement on social media — though the first time, they did it as an April Fools' Day joke, according to People. Earlier this year, Luyendyk Jr. posted a pic to Twitter of what looked to be Burnham's pregnant belly, along with the caption, "Secrets finally out, we have a bunny in the oven!" He later sent out another tweet letting people know that the post was a gag, yet some on social media called out the couple, since fake pregnancy announcements can actually feel really upsetting to couples who are struggling to get pregnant themselves.
The following day, Luyendyk Jr. offered up an apology on social media, and wrote that his "prank was in no way meant to offend women who struggle with [infertility]."
This time though, it's clear that the couple is, indeed, pregnant, and that they're also over the moon about it. And while it may not have been exactly what they were planning, it sounds like they soon-to-be newlyweds more than ready to welcome a little one into their family this spring.