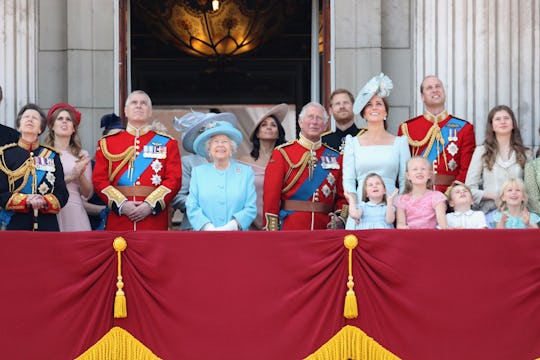 Chris Jackson/Getty Images News/Getty Images
When Is Lord Ivar Mountbatten Getting Married? His Royal Wedding Won't Be On TV
After Prince Harry and Meghan Markle's wedding in May, you may have thought the British royal family was done with weddings for awhile. Not so fast. The Queen's third cousin once removed, Lord Ivar Mountbatten, is set to marry his longtime partner, James Coyle, this summer, and it will be the extended royal family's very first same-sex marriage. But when is Lord Ivar Mountbatten getting married? That's still a bit of a mystery.
Mountbatten, a descendant of Queen Victoria, became the first royal to publicly identify as gay back in 2016, The Washington Post reported. He's now going to marry Coyle, his partner of two years, in the monarchy's first same-sex wedding ceremony.
Mountbatten's first wife, Penelope Thompson, was married to Lord Mountbatten for 16 years, The Daily Express reported. They share three daughters — Ella, Alexandra and Louise, according to The Sun. And in fact, Thompson plans to walk Mountbatten down the aisle at the wedding after it was suggested by their daughters, The Washington Post reported. How sweet is that?
But exactly when Mountbatten and Coyle will be married still hasn't been announced to the public. The ceremony will be held in a private chapel on Lord Mountbatten's estate in Devon, England, in the United Kingdom, and will be limited to close family and friends, CBS News reported. So royal family fans may not know much about it at all before, or even after, the big day arrives.
Although Mountbatten is technically a member of the extended British royal family, he does not have to receive permission from the ruling monarch before he can marry, The Washington Post reported. According to the Royal Marriages Act, the first six people in the line of succession have to receive permission, but Mountbatten is not in the line of succession and he already has children, so the Queen won't need to give her input.
As for who will attend, the Queen's youngest son and lifelong friend to Mountbatten, Prince Edward, and his wife, Sophie, the Countess of Wessex, apparently can't attend after all. Mountbatten told The Daily Mail:
Sadly they can't come to the wedding. Their diaries are arranged months in advance and they're not around, but they adore James. Everyone adores him.
Guess it doesn't always pay to be a popular royal — sometimes your dance card just gets booked up quick.
That means Mountbatten and Coyle know the date if they already know that some people can't make it; there just hasn't been a formal announcement to the public yet.
What we do know is that the wedding is supposed to happen sometime this summer. But that means it could take place anytime between tomorrow and mid-September, really.
Members of the main royal family — such as Queen Elizabeth II and her direct descendants — are probably not going to attend the ceremony, The Portland Press Herald reported. Since the ceremony is reportedly going to be very small, and the reception should have only about 120 guests, according to The Daily Express, it's not likely that the Queen and her immediate family will take up any of those few spots. But never say never, I suppose.
Part of the reason the ceremony is so small, and maybe part of the reason that people who aren't invited know so little about it, is because it sounds like having another ceremony is just not all that important to Mountbatten personally. But he told The Daily Mail:
I really wanted to do it for James. He hasn't been married.
For me, what's interesting is I don't need to get married because I've been there, done that and have my wonderful children; but I'm pushing it because I think it's important for him.
Which is a very sweet sentiment indeed.
Whenever Mountbatten and Coyle get married, it sounds like they'll be surrounded by a lot of love, and have the chance to hold the exact sort of ceremony that they both want. No internationally-televised event for these two, but that seems to suit them just fine.