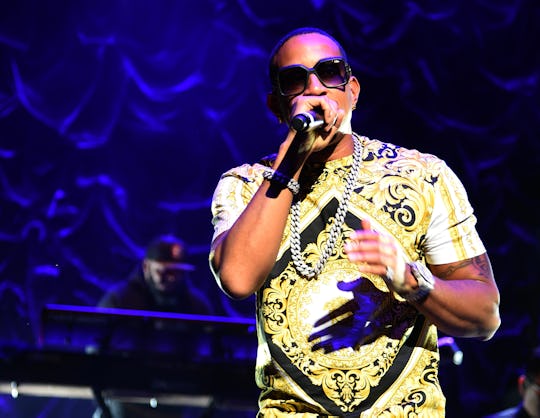 Jamie McCarthy/Getty Images Entertainment/Getty Images
When Is Ludacris' Next Album Coming Out? He's Been Busy With The Billboard Music Awards
If you've been following music at all in the last 16 years, then you know Ludacris is a pretty talented guy. Not only is the musician musically prolific—all of his records have achieved multiple platinum and gold status, he's won three Grammys and an MTV Video Music Award—he's a quadruple-threat: rapper, actor, businessman and philanthropist. He appears in blockbuster franchises and runs his own non-profit organization. And this weekend, he's adding another line to his resume; Chris "Ludacris" Bridges is hosting the 2016 Billboard Music Awards for the third consecutive year on Sunday. I've been seeing the rapper's face all over the place for BBMA promotions which got me, and the majority of his dedicated fans wondering: When is Ludacris' next album coming out?
Ludacris' most recent album, Ludaversal, dropped in March 2015 after a five year hiatus between records. During those five years, Luda was featured on other artists' hit songs like DJ Khaled's "All I Do is Win" and Taio Cruz's "Break your Heart." There are rumors that some new Ludacris music should be coming out soon but there are no details to whether it is solo or collaborative work. But those looking for their Luda-music fix never fear, you can check out the rapper in Cleveland, Ohio on July 30 where he will be headlining Roverfest 2016 alongside 90s alt band Bush and rockers Chevelle.
It seems like the Atlanta-native barely has time to spend in the studio based on his current schedule. But, if the rapper isn't releasing new music, what has he been doing? Answer: A lot. Ludacris has been acting, promoting his charity, and hosting a ton of award shows.
Ludacris is hosting the Billboard Music Awards this year for the third (!) consecutive year alongside frequent collaborator and friend Ciara. The rapper hosted solo in 2014 and was joined by model Chrissy Teigen at last year's event. The popular artist recently expressed his gratitude and excitement at the hosting opportunity. "It is my honor to host the Billboard Music Awards for the third year," he said in a statement. "I'm looking forward to another great show in a new and exciting venue."
According to The Weekender, on his decision to return for another round, Luda joked, "Man, my contract was… right." Then he got serious, saying, "Nah, at the end of the day I came back because they told me that they were getting this woman named Ciara to host with me."
"It's a great feeling to work with Ciara," Ludacris said in an interview with The Examiner. "We have great chemistry, which the fans already know from the music we have performed together." (The two artists collaborated on Ciara's chart-toppers "Oh" and "Ride.")
"We're like family, Luda and me," Ciara told Billboard. "Two ATLiens!" When Billboard asked if he gave his newbie co-host any tips, Ludacris said,
The chemistry is already there. I told her we have to make the awards our own. ... When you're hosting the whole thing goes by so fast. You have to hold off from having too much fun or you'll get distracted.
As for his favorite BBMA nominees, the longtime music industry insider said he was looking forward to seeing Adele, The Weekend, and one-time collaborator, Justin Bieber. "I'm psyched to see Justin Bieber," the host dished. "I've known him since 'Baby' came out, and that was a long time ago. Justin has gone through a lot in those years."
Ludacris seems just as at-home in front of the camera as he was in the studio or in concert. Outside of hip hop, acting is Ludacris' passion these days. The performer has 24 acting credits on IMDB and even won a Screen Actors Guild Award for Outstanding Performance by an Ensemble for Oscar-winning film Crash. Talking to The Examiner, Ludacris explained how his experiences as a host and rapper make him a stronger actor. "[It] gives me the challenge I need when I step into another person's shows," he said, "to see things in a different light and stretch my ability as an actor."
Probably best known for his role as Tej Parker in the Fast & Furious series, Ludacris is currently filming the eighth installment of the blockbuster franchise in Atlanta.
Ludacris isn't just satisfied being on camera, he's begun creating and executive producing television as well. "Add producer to my resume!" Ludacris wrote on an Instagram post urging viewers to "tune in" to the premiere episode of his brand new BET series Inside the Label.
Premiering on May 17, the eight-week series will dive into the history of some of hip-hop's most influential record labels. Profiling eight different hip hop labels, including Murder Inc., Andre Harrell's Uptown, Ruff Ryders with DMX, and T.I.'s Grand Hustle, Inside the Label will offer insight into the rise and fall of these iconic labels, exploring how each one transformed the sound, face, and business of hip hop and revealing the behind-the-scenes, high-profile players responsible for the successful careers of many popular artists.
The rapper isn't all about business, he's a big proponent of giving back, especially to his hometown Atlanta. In September, he will be hosting the 11th annual LudaDay Weekend benefitting his non-profit The Ludacris Foundation, which serves to inspire young people to follow their dreams by promoting leadership, education, and healthy lifestyles. "This has always been about helping the community and the next generation of kids coming up," the rapper told Billboard after last year's event.
Ludacris has also paired up with the USA Swimming Foundation for their "Make A Splash" program which teaches kids how to swim. According to the CDC, drowning is the leading cause of death for kids 1 to 4 years old, and second (behind car crashes) for those 5 to 14. Swimming lessons could reduce the number of drownings by almost 90 percent but 70 percent of African-Americans, 60 percent of Hispanics, and 40 percent can't swim. "It's a problem we wanted to bring to light and just do our part," Ludacris told The Associated Press at a "Make A Splash" event in May.
Ludacris' career path is glittered with hit singles and blockbuster smashes, still his talent knows no limits. His business savvy helped him break into multiple entertainment industries all while giving back. Even though we'd love to hear new tunes from the Atlanta-rapper, fans can rest assured that Ludacris won't be disappearing from public anytime soon.