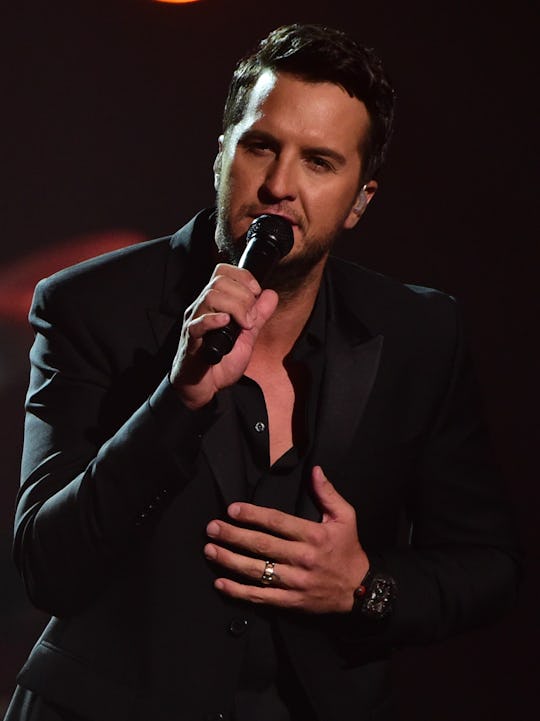 ROBYN BECK/AFP/Getty Images
When Is Luke Bryan's Next Album Coming Out? Not Soon Enough For Fans
Luke Bryan is definitely on a roll. He's got a huge album out right now, "Kill The Lights," and a wildly successful concert tour that is selling so many tickets the country music star had to add a second concert date at Gillette Stadium in Boston over the summer. And now the singer-songwriter is gearing up to co-host the ACM Awards along with Dierks Bentley over the weekend in Las Vegas. So now that everyone's all excited, they're probably wondering when Luke Bryant's next album is coming out.
It's hard to say. There are plenty of rumors, but really nothing substantial — at least not yet. It's hard to imagine an artist would be able to manage a stadium tour and record an album at the same time, but that hasn't stop people from sharing rumors that Bryan is secretly at work in the studio on a new album (which one music mag claimed would be a "back to roots" album followed by a world tour in 2017). Of course, nothing has been confirmed or denied yet, so those claims are still mostly speculation at best.
Bryan has listed tour dates through the summer on his official site, and he recently announced that he had taped an episode of "Crossroads" with Jason Derulo, which should be pretty great. He even shared a sneak preview of new moves he's laying down for the performance on his official Twitter this week, delighting fans and curious onlookers alike.
Bryan's current album, Kill the Lights, has been both a critical and consumer success. The album was the best-selling country album of 2015 and the 10th best selling album of any genre, according to Billboard. So naturally, fans are eager to figure out when he'll be releasing a follow-up.
In the meantime, Bryan seems to have really thrown himself into his ACM Awards hosting gig with longtime buddy, Bently. One report says Bryan is even doing a little of his own tweaking on the awards show script. According to comments the singer made to CMT recently, Bently and Bryan are adding in their own stories and jokes based on their years of friendship.
"We're excited about it," Bryan said about preparations for the ACM Awards Show. Just ready to get out to Vegas and start making it happen."
Bryan was also recently featured on the Grammy Awards along with Demi Lovato, Meghan Trainor and John Legend as part of a performance tribute to Lionel Richie. All of his recent success has made him one of the most popular artists in country music. Yep, he's definitely on a roll and you can bet his next album — whenever it drops — will be a huge success.