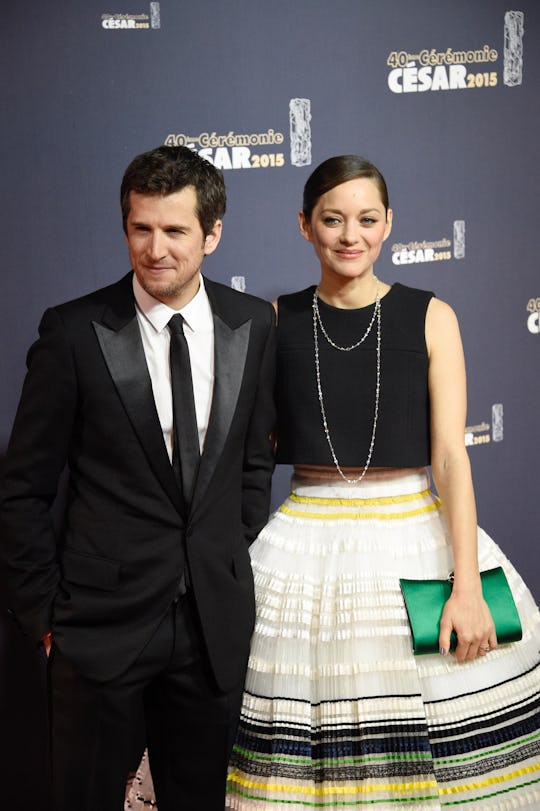 MARTIN BUREAU/AFP/Getty Images
When Is Marion Cotillard Due? She's Expecting Her Second Child
It has been a whirlwind week in celebrity parenting news. At the beginning of the week, celebrity super mom Angelina Jolie announced that she was splitting from long term partner and husband of two years, Brad Pitt. This news left a lot of people devastated, but there is a reason to be happy when it comes to the topic of celebrity parenting: In a recent Instagram post, French actress Marion Cotillard revealed she was pregnant, leading many to wonder when Marion Cotillard is due — and why we didn't know until now.
Cotillard made the big reveal in the caption of her most recent Instagram post but if people didn't read the caption close enough, they might have missed the announcement. Cotillard posted a photo of what looks like a technicolor sky —pretty unassuming for a pregnancy announcement. But Cotillard did more than just announce that she was expecting her second child — Cotillard took the time to clear up some rumors about her relation to the Pitt-Jolie split.
According to People, after it was announced that Jolie and Pitt had called it quits, many people began pointing a finger at Cotillard, Pitt's costar in his newest movie, Allied, and claiming the two had reportedly had an affair on the set. Cotillard quickly shut down those rumors and also added in a bit of good news of her own.
Every single bit of the photo's caption is worth reading:
This is going to be my first and only reaction to the whirlwind news that broke 24 hours ago and that I was swept up into.
I am not used to commenting on things like this nor taking them seriously but as this situation is spiraling and affecting people I love, I have to speak up.
Firstly, many years ago, I met the man of my life, father of our son and of the baby we are expecting. He is my love, my best friend, the only one that I need.
Secondly to those who have indicated that I am devastated, I am very well, thank you. This crafted conversation isn't distressing. And to all the media and the haters who are quick to pass judgment, I sincerely wish you a swift recovery.
Finally, I do very much wish that Angelina and Brad, both whom I deeply respect, will find peace in this very tumultuous moment.
With all my love, Marion
The man that Cotillard is referring to is her long term partner, French actor and director Gillaume Canet. According to People, the couple met on the set of a film in 2003 and began dating a few years later in 2007. The couple welcomed their first child, a son named Marcel in 2011. The happy family tends to keep a low profile, with the occasional paparazzi picture taken of mother and son here and there. From what I've seen of Marcel, I can only imagine how cute Cotillard and Canet's new baby will be. But when will this baby actually arrive? Unfortunately, until today, Cotillard has kept much of her most recent pregnancy under wraps. However, according to French magazine Closer, Cotillard is reportedly due this December.
In the past, Cotillard has said that she loves being a mother, but that being a parent can also be very exhausting. "I've never been more exhausted. But I've never had more energy," Cotillard told Vogue just one year after her son was born. "This is the paradox of being happy. That's where it comes from."
So for now, despite all the media circus and social media buzz, there is no reason Cotillard shouldn't be happy — she has found the man that she loves, is a content mom of one, and has another child on the way. Rumors be damned.