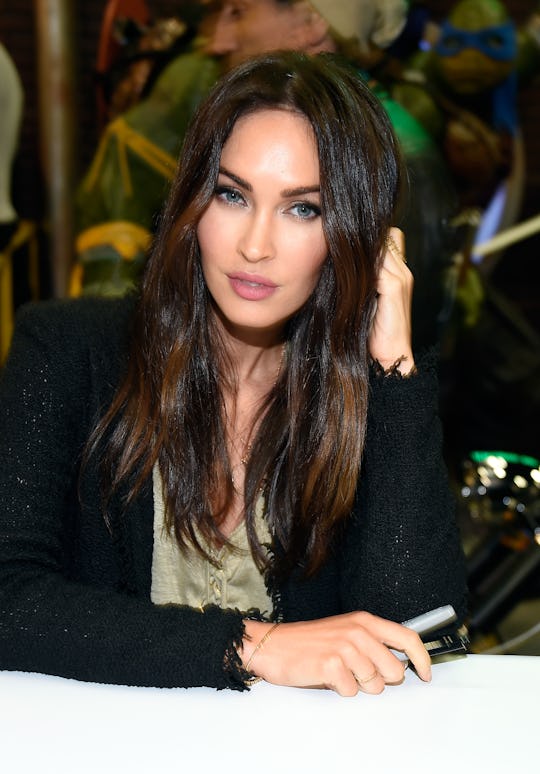 Frazer Harrison/Getty Images Entertainment/Getty Images
When Is Megan Fox Due? She Might Be Pregnant Again
Well, here's some exciting (and pretty surprising) baby news: actress Megan Fox may be expecting another baby. The word "may" is important here because, while the Teenage Mutant Ninja Turtles: Out of the Shadows actress appeared to be sporting a pretty noticeable pregnancy bump while she posed for pictures earlier this week to promote her new movie, she has yet to confirm the news publicly, according to Us Weekly. Still, according to that same report, an anonymous source has come forward to say that 29-year-old star is indeed expecting her third child. When is Megan Fox due? Well, the details are still a huge question mark at this point, especially since so little has come out about the actress's love life after her recent split with husband Brian Austin Green.
According to E! Online, Fox filed from divorce from Green last summer, citing "irreconcilable differences." The couple had been married for just over five years, according to E!, and had been separated for several months before deciding to move forward with the split. Still, E! reported that the two have remained friendly after the split and have been focused on parenting their two children together: 3-year-old Noah and 2-year-old Bodhi.
Fox's representative did not immediately respond to Romper's request for comment regarding the reported pregnancy.
Of course, after the couple announced plans to split, there has been no shortage of rumors about possible love interests for the action film actress. Late last fall, Woman's Day published a story based on an anonymous source linking Megan Fox and Hunger Games star Liam Hemsworth; this week, Entertainment Tonight Canada tweeted a story about the new TMNJ movie and hinted at a possible romantic connection between Fox and co-star Stephen Amell. Fox has kept mum about her personal life so far, except for occasionally being spotted with ex-husband Green after announcing their divorce.
Still, no matter how cute Fox's (alleged) bump is, it doesn't give much away in terms of when the actress might be expecting her newest addition. As any pregnant woman will tell you, bump growth can vary from person to person — and from pregnancy to pregnancy! — so Fox may be weeks along or well into her second trimester. There's simply no way to tell for sure.
But the great news is that motherhood definitely agrees with Megan Fox; the actress has spoken in the past about how much she loves being a mom and how parenting her sons has changed her for the better. So, if she is pregnant, it's likely that a new bundle of joy would be happy news for the whole family.