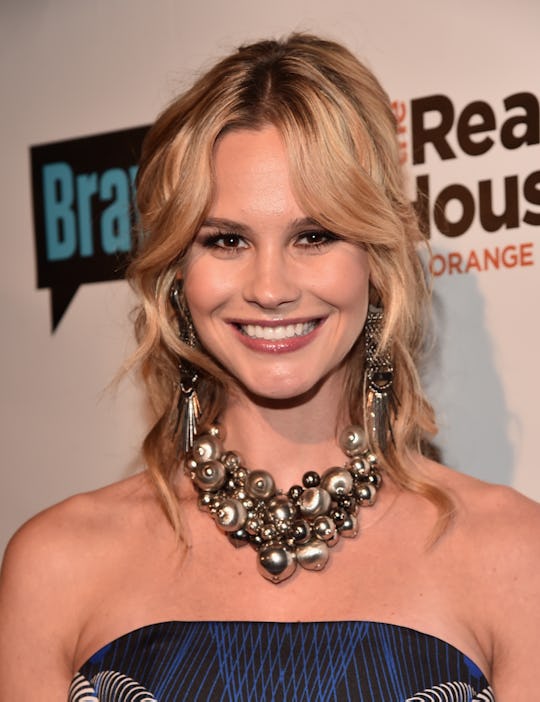 Alberto E. Rodriguez/Getty Images Entertainment/Getty Images
When Is Meghan King Edmonds Due? She's Excited About Her Pregnancy
Meghan King Edmonds has spent Season 11 of The Real Housewives of Orange County trying to conceive a child with her husband, Jim. Viewers have seen her struggle over the years with her desire for a baby despite her deep love for her stepchildren. Jim had already had a vasectomy prior to their marriage, which made the process of getting pregnant all the more complicated. He had some sperm frozen just in case which started the Edmonds on an IVF journey that proved immensely difficult for Meghan, who not only was often alone but also had a serious needle phobia to overcome. Happily, all that struggle ended in success and she is now pregnant. But when is Meghan King Edmonds due?
In her announcement to Bravo, Meghan said her baby would be due around the holidays; she is only around five months pregnant now. She also announced that her baby is a girl. It's nice to know Meghan's fertility journey ended in the result she wanted, especially because she's been having a hard time on RHOC. She has described the IVF process as "very emotional" and explained that she was frustrated by Jimmy's lack of involvement. Work called him away to Florida for most of the process, leaving Meghan to handle things on her own. However, they are both happy to finally be expecting.
In fact, now that Meghan is actually pregnant, Jim is a lot more excited about everything. "I mean, the whole getting pregnant part he was like, 'Oh, you know...like whatever. What's going on?' and [being a] total stereotypical guy," Meghan said on Watch What Happens Live. "But now that I am pregnant he's always talking about the baby, and 'How's the baby? Can you feel the baby?' And it's really sweet now that I'm actually pregnant. I think he just needed it to materialize a little bit more."
She described the moment when she found out as "completely surreal" and like "something you see in a movie." After working so hard to get there, it was finally real. Until the baby arrives, Meghan and Jim have a lot of preparing to do. Meghan seems to be enjoying everything about her pregnancy: getting things ready for the baby, picking out names, and documenting all the new changes her body is going through.
Meghan and Jim are considering the name Watson for their baby girl because it's a family name, but nothing has been decided yet. The newest Edmonds joins four other siblings from Jim's previous marriages: Lauren, Hayley, Landon, and Sutton. His child with Megan will be his fourth daughter.