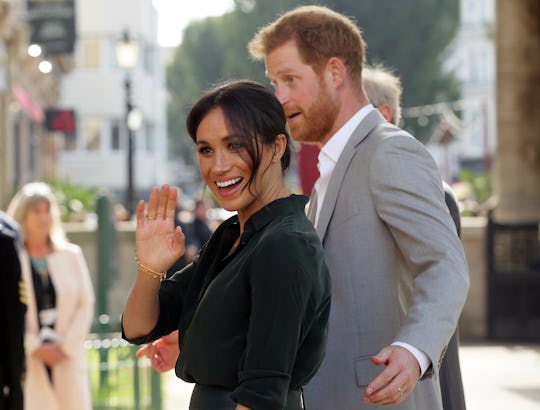 WPA Pool/Getty Images Entertainment/Getty Images
Here's When The World Can Expect Another Royal Baby
The world speculated and spread rumors and speculated some more, but now it's official: The Duchess of Sussex, Meghan Markle, is expecting her first child with the Duke of Sussex, Prince Harry. The two married this past May and, just five months later, have announced the good news. So, when is Meghan Markle due? According to Kensington Palace, the world is going to have a lot to look forward to next year.
In a statement released by Kensington Palace and shared via Twitter, Markle's pregnancy was not only confirmed but we were all given a glimpse into the possible due date. Or, well, the due "season."
"Their Royal Highnesses The Duke and Duchess of Sussex are very pleased to announce that The Duchess of Sussex is expecting a baby in the Spring of 2019. Their Royal Highnesses have appreciated all of the support they have received from people around the world since their wedding in May and are delighted to be able to share this happy news with the public."
So there it is, friends: we can all expect a Spring #RoyalBaby, which will no doubt be the joyous occasion we will all need after what is supposed to beg a long winter.
Rumors have been swirling about a Meghan Markle pregnancy since the couple tied the knot this past May, and arguably kicked into overdrive when Markle attended Princess Eugenie's wedding on Friday. Betfair Spokesperson Katie Baylis said, according to Express: "Meghan's loose coat at Princess Eugenie's wedding on Friday led to speculation that an announcement was imminent." And now that the rumors have been confirmed and the speculation can stop, the couple can look forward to the future which, according to Express, will include a tour of Australia; one of their first royal engagements since their wedding.
Potential names are already being discussed, according to Express, and the frontrunners are, of course, incredibly meaningful. If Markle is having a girl, Diana is said to be a favorite — for obvious reasons. And if Markle is having a boy, Arthur is another favorite. As reported by Express, the same names were considered favorites for Duke and Duchess of Cambridge, Prince William and Kate Middleton. Of course, their children's names are Prince George, Princess Charlotte, and Prince Louis, so early guesses are just that: guesses.
The couple was already high-profile, so we can all expect the #RoyalBabyWatch to be kicked into overdrive as Markle and Prince William continue to live their lives and go about their royal duties. But at least the pregnancy speculation can stop, and the royal baby name speculation can begin.
Congratulations to the beautiful couple!