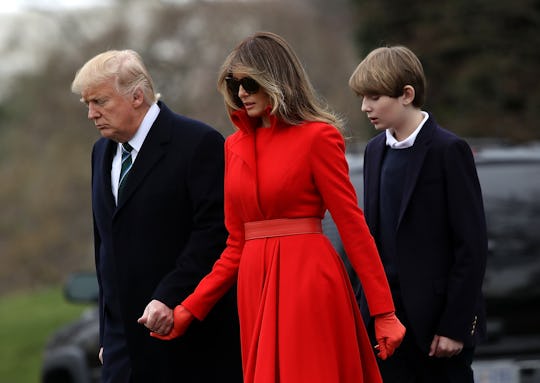 Justin Sullivan/Getty Images News/Getty Images
Here's When D.C. Can Expect Melanie & Barron Trump
Seeing that it costs anywhere from $127,000 to $145,000 per day to keep Melania Trump and her 11-year-old son secured in their current home in New York City's Trump Tower, taxpayers have been wondering how much longer they'll be expected to foot the bill. Luckily, they now have an answer: The first lady and her son will be leaving their New York abode and making their way to the new White House residence this year, saving taxpayers a bit of change in the process. So when is Melania moving to the White House with Barron, then? According to TMZ, it'll happen at the end of Barron's school year, around June.
The issue of the first lady's move has been brought up time and time again, with the family facing plenty of pressure to switch their primary place of residence. In February, a source told Us Weekly that the move might not happen at all, sharing that the family "will reevaluate toward the end of the school year if they will keep this arrangement or if Melania and Barron will move to Washington." This report was quickly written off as incorrect by Melania's senior adviser, Stephanie Winston Wolkoff. Wolkoff provided a statement in response, insisting that "Mrs. Trump will be moving to DC and settling in to the White House at the end of the school year, splitting her time between New York and DC in the meantime."
It appears, then, that Melania is making good on February's promise. TMZ sources close to the Trumps confirmed that they're "absolutely moving after the school year," while also sharing that the school Barron will attend has been decided upon as well. No existing reports have indicated where exactly that will be, though tradition dictates that any details about first children are usually kept out of the spotlight for obvious privacy reasons. Regardless, Melania is undoubtedly looking forward to her new digs, seeing as she's hired an interior decorator and has also requested her very own "glam room."
This past weekend, Melania and Barron visited Washington, making a quick stop at dad's office before boarding a plane to their home-away-from-home, Mar-a-Lago, in Palm Beach, Florida. Without a doubt, the Trumps appreciate their weekend getaways, despite the fact that each mini-vacation costs an estimated $3 million. This most recent jet-set marks Trump's fourth trip there since he's taken office.
It's the amalgam of multiple, high-cost living venues that continue to frustrate many, especially given Trump's recently proposed budget cuts that completely obliterate heaps of federal departments in efforts to save revenue. Having Melania and Barron at 1600 Pennsylvania Avenue will definitely help to offset that unnecessary spending.