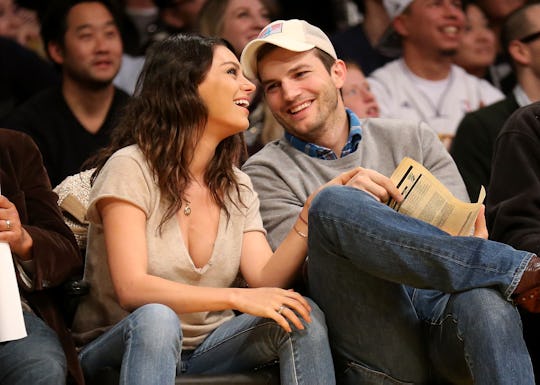 Stephen Dunn/Getty Images Sport/Getty Images
When Is Mila Kunis Due? She's Expecting Her Second Child
A rep for your favorite cool celebrity couple, Ashton Kutcher and Mila Kunis, confirmed on Wednesday that the couple, who married in 2015, were expecting their second child together. The news comes almost two years after the birth of their first child, Wyatt Isabelle. So when is Mila Kunis due?
As it turns out, Kunis' representative didn't give that much information to People Magazine. The baby's sex or due date was not revealed, and the actress' rep did not allude to how far along Kunis was in her pregnancy. Therefore, there is no official word on when Kunis is due or will be having her second baby. Luckily, some websites caught word of Kunis' pregnancy a bit early, which means we might have an inkling as to how far along she may be.
This is perfect timing for Kunis who is currently starring in and promoting a movie all about the, er, not so glamorous side of motherhood called Bad Moms, which premieres on July 29. I'm sure Kunis' new pregnancy will contribute to some great stories on the talkshow circuit where she could possibly reveal how far along she is in her pregnancy — but that is just my theory. For now, we have photographs and rumors to allude to when Kunis may be due.
Two weeks ago, Kutcher posted this super conveniently angled photo of him and Kunis on Red Nose Day, which suspiciously hides everything except Kunis' head, shoulders and feet. Seriously, where did the rest of her body go?! This extreme angle hides any sight of a baby bump which had to have been showing at the time. Hm. Good going, Ashton. Other than that photo, Kunis has been suspiciously absent from Kutcher's account. Hmmmm...
Kunis and Kutcher were both recently spotted at a Golden State Warriors basketball game earlier this month. While a bump is no where to be seen, Kunis is sitting down and wears a baggy black top, perfect for disguising her belly amidst pregnancy rumors.
However, from as early as March 14 of this year, OK! Magazine was one of the first to report that Kunis might be pregnant. According to the magazine, a source exclusively told OK! that the two were ready to have a second child, and the magazine to spot a bump underneath a baggy sweater that Kunis wore in March. If that is the case, Kunis could be anywhere from three to five months pregnant.
The rumors, however, appeared to be true as Kunis is now confirmed to be expecting her second child. While a due date may be unclear, if speculation and paparazzi pictures tells us anything, we might possibly hear news about the new baby's birth come fall. And I, for one, am so excited.